---
Features
Reinvention, drive define Coca-Cola scholarship winners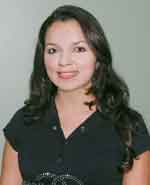 Angelica Matta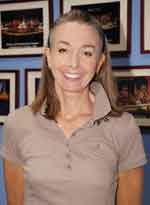 Claudia Bruce
Just before her first day at Miami Dade College, Angelica Matta was nearly paralyzed in a head-on car accident.
She spent two months in bed recovering from fractures in her pelvis and left ankle, a slipped disc in her cervical spine and a concussion.
Still, when the time came for her to once again volunteer at a camp for ventilation-assisted children at Miami Children's Hospital, Matta showed up with a walker.
That determination earned Matta a coveted Coca-Cola Scholars Foundation award, one of two given to MDC students this year. The second award went to Claudia Bruce, an art major attending Wolfson Campus.
The Coca-Cola Scholars Foundation is one of the most recognized and respected corporate-sponsored scholarships in America. Matta and Bruce beat 800 national applicants for the foundation's Two-Year Scholarship Program, which helps students who attend higher education institutions that grant two-year degrees.
Matta is currently attending MDC's Kendall Campus through the Bridges to the Future program, aimed at students interested in research careers in the biomedical sciences. The biology major said she is grateful for the extra money to help save up for medical school.
"My dream is to become a pediatric cardiologist. I dream of saving children's lives and to be able to give back hope and faith to the parents who have suffered because of their children's condition," wrote Matta in her award-winning scholarship application.
Claudia Bruce, an art major attending Wolfson Campus, also won a Coca-Cola scholarship. She came to Miami to reinvent herself. After 17 years of owning and operating a fabric and fashion design business in New York, she turned her attention to art conservation with a specific focus on textiles and fabrics.
"My real interest is in not wanting these things to disappear," said Bruce. "It's so important to know where we come from."
The Foundation's Coca-Cola Scholars Program was created in 1986 to commemorate the 100th anniversary of Coca-Cola and to establish a legacy for the education of tomorrow's leaders. Now in its ninth year of funding the Coca-Cola Two-Year Colleges Scholarship Program, the Foundation has provided $3.7 million in scholarships to students attending two-year degree-granting institutions. Over the past 20 years, the Foundation has awarded more than $35 million to the Coca-Cola Scholars Program. 
— Sue Arrowsmith
More Features Articles