---
Academics
Professor connects mathematics to the real world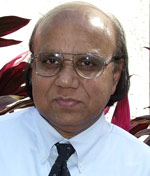 Shakil
Quick – what is the value of Pi? If you can't remember, a professor at Hialeah Campus has a date for you to keep in mind: March 14.
In 2007 on this day, which can also be written as 3.14, Dr. Mohammad Shakil inaugurated the first celebration of Pi Day in Florida. He is now planning for another celebration on 3.14 in 2009.
Connecting mathematics to real life and timely topics is part of Shakil's trademark as an assistant professor of mathematics. For example, this year his business calculus class studied models of voting patterns since 1900, and his college algebra class conducted a home mortgage project.
"You have to do your best to motivate students," Shakil said. "I study the students' behavior and try to tailor each class to them." Another tactic he employs is offering extra credit for students with near perfect attendance.
In addition to the personal touch, Shakil brings a broadly international perspective to the classroom. Shakil is a native of India, where he earned his first of two master's degrees at age 21 and started teaching at age 22. He has also taught in Nigeria and at colleges across South Florida. He is very thankful to be at Miami Dade College.
"MDC is one of the best institutions I have seen in my life," he said. Also, he believes that it is much larger than any institution of higher education in India.
Shakil, who holds a Ph.D. in mathematics, started as an adjunct faculty member in 1995, a year after moving to the U.S. He became a full-time professor at Hialeah Campus in 2004.
Shakil enjoys conducting research in his classes, and he has made presentations about his findings at two consecutive MDC Conference Days. He also serves as the editor of Polygon, the online journal of Hialeah Campus' department of liberal arts and sciences. He contributed three highly researched articles about statistics and assessments in the latest issue. His research at MDC is leading to wider opportunities. He hopes that his 2008 survey of MDC students' attitudes toward statistics will lead to his participation in a similar, national survey in 2009. This year, he co-authored an article about probability theory in the international journal Statistical Papers.
Shakil's main goal is to develop his students' critical thinking skills. He likes to begin the semester with diagnostic tests to identify particular areas of difficulty in mathematics and then target those weaknesses.
As much as possible, he gets students to work in groups and tackle real-world problems. One statistics class played around with the measurements of trees, while other classes tackled atmospheric concentrations of carbon dioxide. Other topics that might seem unusual for mathematics classes have included veterans of the Vietnam and Iraq Wars, cancer rates in men versus women and automobile usage by public versus private organizations.
"They were very excited to do this research," he recalled.
In a manner similar to Pi Day, last year Shakil organized workshops for students during Black History Month and Women's History Month about leaders in mathematics. In this way, his teaching stretches beyond numbers and across several of the College's 10 Student Learning Outcomes.
This semester Shakil has five classes in four subjects: college preparatory math, college algebra, statistical methods and business calculus. The challenge does not faze him.
"I don't want to teach the same subject all the time. It's not difficult," he said. He maintains great faith in his students' abilities and attitudes. That faith may also inspire them to fulfill their own potential.
— Jim Harper
More Academics Articles