---
Alumni News
Alumna Makes Customer Satisfaction Her Priority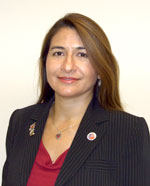 Curci
Fulfilling customer needs is alumna Angela Curci's mission as vice president/wire transfer manager at U.S. Century Bank in Miami, where she has worked since 2007. Curci has a job with tremendous responsibilities. She manages the daily operations of the wire transfer department, including domestic, international and foreign currency transactions. She also is in charge of providing payment services to global correspondent banks that cater to countries in Latin America and the Caribbean.
"Being able to provide the most efficient customer service possible to U.S. Century Bank's internal and external customers is my primary goal," Curci said. "I've been in this line of work for 20 years and have personally seen happy and satisfied customers who want to continue to do business with us when they see that we care and do our best to serve their needs. The customers remember the small details that come from smooth transactions."
Curci has a long history working in banking and finance. Prior to her current position at U.S. Century, she spent eight years at Regions Bank in Miami, where she rose from wire transfer supervisor to vice president/wire and swift communications manager. Previous to this, she worked at U.S. Mortgage Co. in Bal Harbour Island, First Union National Bank of Florida and Southeast Bank, both located in Miami.
Curci credits the College for putting her on the right educational and career path. "MDC was a watershed experience for me and the cornerstone to my future," she said. "If I had not gone to MDC, I don't know if I would have continued my higher education. Without it, I would not be where I am today."
— Barbara Bickel
More Alumni News Articles