---
Cultural Spotlight
Award-winning theater duo to discuss making art work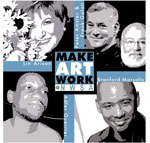 Make Art Work features local and national artists
Many hands and many paths make art work.
That is exactly what an award-winning duo of theater professionals will bring to the table during the second installment of Make Art Work – a flagship dialogue series of New World School of the Arts (NWSA).
On Wednesday, Jan. 14, Tony Award-winning a writer, director and actor Frank Galati and director and choreographer Peter Amster will discuss talk about how they've navigated their careers and nurtured their art over the years.
The one-hour talk will begin at 1 p.m. at the NWSA Louise O. Gerritts Theater, 25 N.E. Second St. in downtown Miami.
NWSA launched the series in October with Lin Arison, artists advocate and author of Travels with Van Gogh and the Impressionists:  Discovering the Connections.
Arison gave a heartfelt account of her journey from being a young person with little direction to director of the Arison Arts Foundation and overseer of the prestigious YoungARTS project.
"Make Art Work is designed to bring artists and arts professionals together with students and the community for a dialogue on the business of art, their experiences and their perspectives for success in the arts," said Maria Flores, NWSA's director of marketing and communications.
The series focuses on providing tools, guidance and strategies for success to the next generation of artists and will expand understanding of what it takes to live as an artist in the 21st century. Lectures feature a question and answer session, allowing students and the public the opportunity to directly communicate with leaders of the art world.
The final two installments will feature:
• NWSA alumnus Adler Guerrier on Wednesday, Feb. 18. Haitian-born Guerrier is a visual artist who lives in Miami and participated in the 2008 Whitney Biennial.
• World-renowned saxophonist Branford Marsalis closes the series on April 3. The three-time Grammy winner will be at Miami Dade College as a guest of the Cultura del Lobo performance series. 
— Lourdes Rodríguez-Barrera
More Cultural Spotlight Articles