---
Features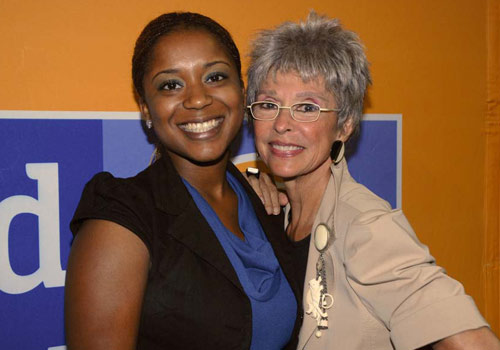 Foster care phenom inspires
Sharah Herise was telling her story. And local and national leaders were listening to her riveting account of growing up in the foster care system and working hard to avoid homelessness.
The full-time student says the instruction she received in professor Dr. John Frederick's speech class prepared her for that moment.
"His class was very helpful," she said. "The way he set things up was the way it would be in the real world."
Herise found herself on stage with legendary actress Rita Moreno at the annual United Way Women's Leadership Breakfast. There, she gave an emotional account of her life to the crowd of more than 1,000 people.
Herise was chosen to give this address based on a speech she gave for CHARLEE Homes for Children, her foster care provider and current part-time employer. She had just completed a Wolfson Campus speech class taught by Frederick when the director of CHARLEE first invited her to speak.
Since her talk at the United Way event, she has received requests for more speaking engagements.
Part of Herise's appeal comes from the dramatic nature of her own life. In August of 1998, she had to leave her family in Liberty City and move in with a foster care family. At age 18 – when foster care ends for all children in Florida – she moved in with her sister until obtaining her own place through CHARLEE's Independent Living Program. Tears roll down her cheeks when she thinks about what could have happened.
"Once you turn 18, you're on your own. Without the Independent Living Program, I don't know where I would be. I think I would be homeless," said Herise.
For young people in a similar situation, Herise advises that they work quickly on securing their education before age 23, when benefits of the housing program cease. "Don't waste your time – jump right into school," she said.
Herise dreams of one day working with children as a missionary nurse, and she plans to earn a master's degree and have her own family someday.
"Being in foster care doesn't determine your future, or the person you want to become," Herise said.
Her wise words are proving to be the inspiration that many want to hear.
— Jim Harper
More Features Articles