---
Features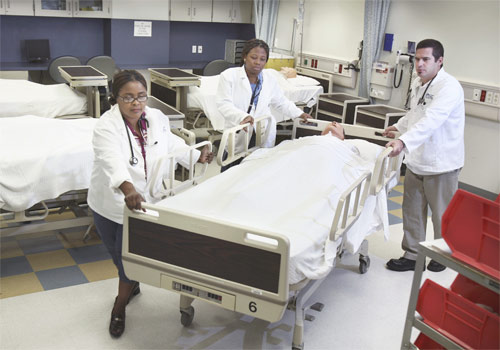 Research: MDC programs recognized for addressing critical needs
For leading the state in the number of nursing graduates, Miami Dade College received $178,617, 14 percent of all available nursing dollars from the state's Performance-Based Funding Program. The College also led the state in the number students who complete college prep courses, receiving $251,808, 18 percent of available funds.
And MDC ranked high among similar institutions when it came to securing transfers for students earning the Associate in Arts degree and for increasing the overall number of A.A. graduates.
In total, MDC received a nearly $3 million bonus from the state for stellar performance in these and other critical areas, according to an MDC Institutional Effectiveness report by Margaret Mannchen.
Accountability and encouragement
State funding for community colleges is provided annually by the state legislature on what is called a "base-plus" basis. The "base" is the prior year's funding. Added to the base is new funding for operating new facilities. Any additional dollars come from two separate financial allocation models: 1) the community college funding model and 2) the community college performance funding model.
The bulk of new funding (98 percent) is allocated through the community college funding model. The remaining two percent is allocated through performance funding model.
Performance-based funding rewards community colleges that meet specific objectives, such as increasing Associate in Arts degrees awarded or training students to meet state-identified workforce objectives.
This system holds institutions accountable – and provides financial incentives – for producing measurable results.
Critical areas
Miami Dade College increased its proportional share of state dollars for incentive measures, Associate in Science degree measures and apprenticeship completers.
The College's Educator Preparation Institute (EPI), a School of Education program that helps professionals with bachelor's degrees transition to careers in education, was the second-largest EPI program in the state.
In two key areas, MDC's performance increased but the state allocation was smaller than in the previous years.
The number of GED diplomas granted at MDC increased 6.6 percent, but the dollars earned fell 7 percent.
And the number of special category completers – such as students who qualify as economically disadvantaged, have disabilities or test into English for Academic purposes – increased 79 percent, but because the dollar pool decreased, MDC saw only a 7 percent increase in the category.
— Gariot P. Louima
More Features Articles