---
Academics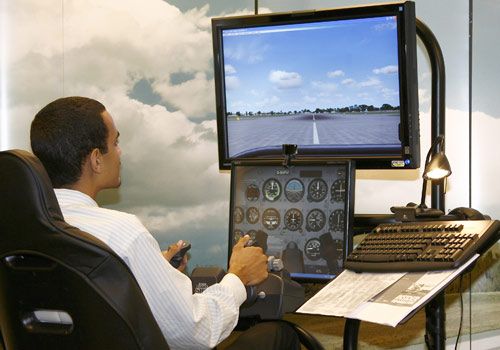 School of Aviation advances careers in flight
MDC's Eig-Watson School of Aviation recently moved to a location just a stone's throw from the control tower at Miami International Airport (MIA). The move gives students – quite literally – a first-class view of airport operations.
Along with new, state-of-the-art flight simulators, top-notch instructors and a curriculum accredited by the Federal Aviation Administration (FAA), Eig-Watson continues to be a regional leader in educating students interested in careers in flight.
"Our new campus will give us more exposure to the airport workers and will make it easier for our air traffic internship students to go back and forth from the control tower," said aviation professor Victor Fernández. "The new location will elevate the College's image and exposure. Its proximity to the actual operations of MIA will help our enrollment."
Professor Tim Schmelzer agreed. "Since many of our students are MIA employees, our presence near the airport enables us to better serve them," he said.
The Eig-Watson School provides wide-ranging opportunities so MDC students can achieve success by meeting the professional and educational needs of the aviation industry.
The Professional Pilot Technology program, for example, prepares students to become commercial pilots for a commercial and corporate airlines. Students learn aerodynamics, meteorology and the human factors involved in piloting in this FAA-regulated program.
Many of the instructors have prior airline or military experience so students benefit from first-hand, real-world knowledge.
The School also offers an Aviation Administration program that leads to jobs in airline sales and reservations, air cargo, airport operations and data entry positions. Students learn the latest in management philosophy, computer technology, customer service and industry operations.
Programs in air traffic control and aviation maintenance programs are also available to students interested in those career paths.
"The Eig-Watson School of Aviation is first class," Schmelzer says. "We have successful alumni flying for major airlines from around the world and we have air traffic controllers working throughout the United States."
— Barbara Bickel
More Academics Articles