---
Academics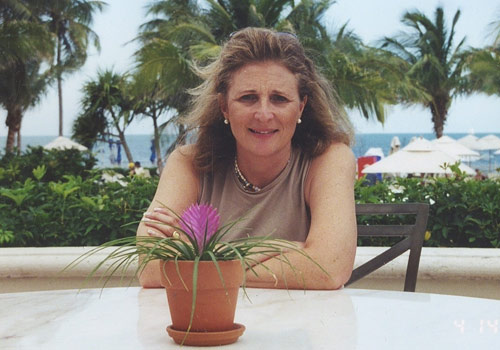 Professor brings life to language
Professor Ileana Porges-West uses innovative and holistic teaching methods to teach the English language. Porges-West teaches sections of Accent Reduction and Advanced Reading, both part of the English for Academic Purposes (EAP) curriculum. She uses traditional pedagogical approaches married with interactive out-of-classroom activities like service learning, and participation in national literacy initiatives, such as The Big Read.
She has been successful, she said, because she is able to assist students in reflecting "on what actions they would take to become part of the global community." Opposed to simply memorizing words and rules of construction, Porges-West teaches her students to adapt to American culture.
Thanks to her creativity, her students are able to strengthen their language skills in real-world settings, giving them a taste of what they will experience outside of the safety and comfort of the classroom.
Take the organic garden at Hialeah Campus. Through planting, harvesting and cooking produce from the garden, Porges-West instills in her students environmental awareness and gives them the opportunity to build and practice a unique vocabulary.
Porges-West said she chose to teach EAP because it draws on her multidisciplinary background; her objective is to incorporate content from the arts, history, science and business sectors to help students transition to regular college classes and to develop a global consciousness among them, she said.
Additionally, these activities offer opportunities for students to learn from each other.
Porges-West's class recently prepared healthy meals using vegetables from their garden for those staying at the Family Life Shelter. The students created PowerPoint presentations, outlining what they had experienced at the shelter, and then used them to teach other students what they'd learned.
"I want my students to reinterpret the 'American dream' and find meaning, happiness and success as they choose their academic and career paths," she said.
Porges-West earned a bachelor's in anthropology at Vassar College, a master's in economics from American University, and a master's in education at Florida International University. She is currently working on a graduate certificate in earth literacy at St. Thomas University, a program developed in conjunction with MDC. In addition to her EAP classes, she has taught traditional business and banking courses and is currently teaching economics in MDC's Virtual College.
"I'm definitely committed to being a lifelong learner and reinventing myself in the classroom every day," she said.
— Elizabeth Tracy
More Academics Articles