---
Alumni News
Alumna ready for new role as energy 'czarina'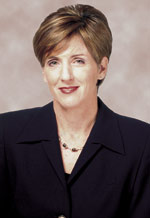 Carol M. Browner
As President Barack Obama's new coordinator of energy and climate policy, alumna Carol M. Browner is taking on a familiar challenge.
President Bill Clinton appointed Browner administrator of the U.S. Environmental Protection Agency (EPA) in 1993. She served until 2001, the longest tenure in the agency's history.
As administrator, her task was to protect public health and the environment by safeguarding the nation's air, water and land from harmful pollution. She was guided by the philosophy that safeguarding the environment means providing Americans with real everyday benefits – fresh air to breathe, clean water to drink, safe food to eat and land on which it is safe to live.
She has also been guided by another philosophy: Care for the environment and the health of the economy go hand-in-hand. Browner believes that setting tough standards to protect the environment and public health can be done in ways that promote innovation and competitiveness.
She knows environmental regulation from both the Washington and state perspective. From 1991 to 1993, Browner was secretary of Florida's Department of Environmental Regulation, one of the largest state environmental agencies in the nation.
She won praise for effectively navigating difficult issues involving wetland protection, hazardous waste disposal, and Everglades cleanup.
Browner was born and raised in South Florida, where Everglades National Park was a bike ride away. Her parents – both professors at Miami Dade College – taught her first lessons in politics and instilled within her a deep appreciation for the natural world.
At her swearing-in as EPA administrator in 1993, she said she wanted her son to be able to "enjoy the natural wonders of the United States in the same way that I have."
She graduated from Miami Dade College and then transferred to the University of Florida, where she later earned her law degree.
Over the years, she has received numerous honors. In April 1997, Browner received the Mother of the Year Award from the National Mother's Day Committee for her dedication to preserving America's children with a safer, healthier world.
She has also has received Glamour magazine's Woman of the Year Award, the South Florida Chapter of the Audubon Society's Guy M. Bradley Lifetime Achievement Award and the Lifetime Environmental Achievement Award from the New York State Bar Association.
— Katherine Joss
More Alumni News Articles