---
Cultural Spotlight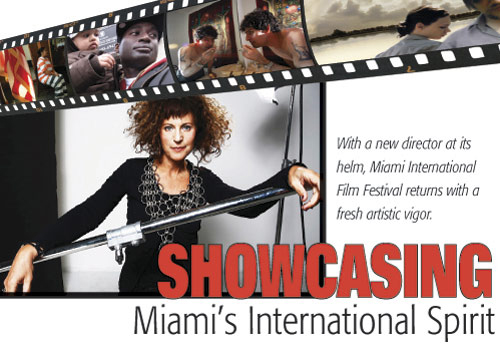 Film Festival: March 6-15
From the addition of a category featuring experimental works to a focus on films that explore significant social issues, the 2009 edition of Miami Dade College's Miami International Film Festival (MIFF) is charting a decidedly new course.
Led by the vision of new director Tiziana Finzi, the 26th MIFF will bring important films from all over the world to South Florida audiences.
"The mission for a film festival director is to do something different," Finzi said, "to give the audience something special, to help them discover amazing films that have no other occasion to reach a larger public."
This year's line-up features three world premieres: Derniers Mots (Last Words), a Dutch documentary that emphasizes the fear of love with an awe-inspiring soundtrack by punk legend Iggy Pop; Paraiso (Paradise), which tackles the familiar subject of immigration from Cuba and is part of the local Florida Focus program; and Perfidy, which follows a young man on a mysterious journey and transformation.
In addition, a generous sprinkling of award winners from top international festivals will be screened. In Prince of Broadway, a Ghanaian immigrant and sidewalk hustler in New York City finds his life turned upside-down when he unexpectedly becomes a single father in this Grand Jury Prize-winner from the L.A. Film Festival. The Soviet Union's race to put the first man in space provides the backdrop for the Russian period drama, Bumaznyj Soldat (Paper Soldier), which won prizes for best cinematography and best director at the Venice Film Festival.
Delta is the tragic tale of an incestuous couple and the isolated home they attempt to build to protect their relationship. The Hungarian and German film won the FIPRESCI prize at the Cannes Film Festival. And the super-realistic La Nana (The Maid) centers on the intricate dynamics that comprise the maid's role in Latin American society. It won the World Cinema Jury Prize at the Sundance Film Festival.
Other prominent Festival highlights include 8, a compilation of eight short films on world poverty from master filmmakers including Wim Wenders, Jane Campion, Gus Van Sant and Mira Nair. Burwa Dii Ebo (The Wind and the Water), a film written by the indigenous people of Panama about adapting to life and society in Panama City, is a rare gem from a country that is a relative newcomer to the cinematic landscape. Last but not least, Tony Manero is a dark comedy about a man willing to do whatever it takes – theft, betrayal and murder – to win a televised John Travolta impersonation contest during the bleakest days of Pinochet's regime.
Through its diverse programming, MIFF remains true to Miami's distinctive, international spirit.
"Miami is emerging, culturally," Finzi said. "The city is full of energy. My position offers me a unique opportunity to build something very special: a festival that showcases the art of film and Miami's spirit."
— Katherine Joss
More Cultural Spotlight Articles