---
Academics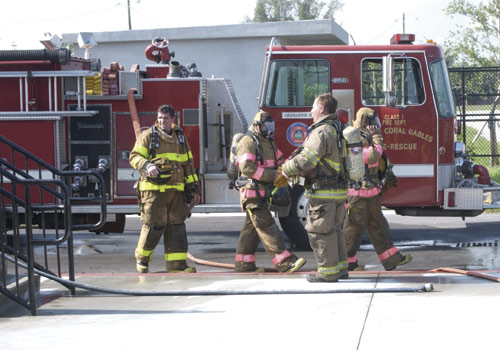 At the Fire Academy, it's one class, one family
Christian Pérez's classmates affectionately called him "Einstein" because he is always a bit outspoken. But Pérez, a recent graduate of the Fire Academy at MDC's North Campus, is outspoken simply because fighting fire is something he knows; it's in his blood.
"It sounds corny, but it's true," he said. "I wanted to be a firefighter since I was a little kid. And knowing that the Fire Academy at Miami Dade College was one of the top in the state, the choice was obvious for me."
The Hialeah resident will add a certification in emergency medical technology this summer.
The College's firefighter program is a 450-hour curriculum designed to meet the State Fire Marshal's requirements for certification. Consisting of a 45-hour First Responder class and 405-hour Firefighter Minimum Standards class, the program encompasses both written and practical portions of the State Firefighter I & II Certification examination with extensive classroom and practical field components.
Steven Sorger came to MDC from the University of Miami with a bachelor's in business administration and nearly two years of business experience under his belt.
Sorger, originally from Rockaway in Queens, N.Y., said he began thinking about a career in public service after Sept. 11, when 60 resident firefighters from his hometown were killed at the collapse of the World Trade Center. "That really affected my decision – that it would be something I wanted to do and give my life to if it ever came to that," said Sorger, who chose to study at MDC because he was impressed with the various study options the College provided.
MDC offers complementary certifications in emergency medical technology and paramedics (both offered at Medical Center Campus) as well as associate degrees in fire science and fire inspection. In a state like Florida, where firefighter and ambulatory services are combined, this is a definite plus for those entering the field or hoping to advance their careers.
"That's one of the great advantages of MDC – a one-stop educational facility," he said. "We all have to be very experienced in the emergency field. You're into saving lives."
The Fire Academy is a mentally, physically and emotionally challenging program, said Michael McCann, a retired Hialeah fire chief who joined the school in 2002 and now serves as the program's interim director.
"All of our instructors are either currently active or retired firefighters, which is essential for mentoring students through real-life scenarios."
To graduate, fire cadets must pass the self-survival maze and successfully complete a search and rescue test, all performed in total blackout at the on-site training tower known as the "burn building," where 80 percent of all Miami-Dade County firefighters train.
"Successful students embody commitment and discipline with academic and physical ability, within a healthy support system, and a great attention to detail," McCann said. "Attention to detail makes the difference between saving or costing lives. That's why our training is so intensive."
When asked about his experience, Sorger summarized it succinctly: "It's all mental."
— Hector Pino
More Academics Articles