---
Academics
Synergies for academic success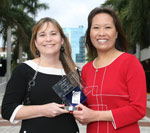 Sarah Garman and Alice Wong
North Campus professors Sarah Garman and Alice Wong had a simple premise: If students can connect what they are learning to what is happening in the world, they will more readily attain that information.
So Garman, a college preparatory reading professor, and Wong, a college preparatory math professor, devised Math and Reading: Creating Synergy, an interdisciplinary course that combines their respective disciplines with newspaper reading and civic engagement.
The project earned them a coveted Golden Apple grant two years ago. Recently, Dr. Will Holcombe, chancellor for Florida's Division of Community Colleges, recognized them with a Best Practices Award for their outstanding efforts in the area of academic affairs.
Current news articles were used as the foundation to develop real-world, level-specific math problems and reading comprehension questions, Wong and Garman said.
The news articles used in class addressed current social issues to help foster a sense of civic responsibility and global awareness. These modules also included math journal topics, research extension activities and related service-learning projects, such as participating in a Habitat for Humanity build.
The project followed an in-class unit on civic responsibility. Students read articles about the benefits of service-learning and about what other college students around the country were doing. Then, they wrote about what they could do in their own communities and charted the statistical data on the positive influence of service on high school and college students.
All this before they rolled up their sleeves to assist with a Habitat build. When they returned to class, they were asked to reflect upon their experience and their contributions. Other in-class units were on budgeting, the environment, education, minority issues and health.
Garman and Wong have each taught at MDC for 15 years. Garman's affiliation with MDC goes back further: Both of her parents taught English at the College. After earning her master's at Florida State University, she returned to South Florida to follow in their footsteps. Wong joined the faculty after completing her master's at Stanford.
— Staff Report
More Academics Articles