---
Alumni News
Gone to Texas: Alumnus heads the El Paso fire department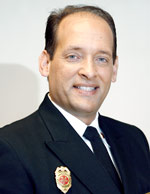 Otto Drozd III
The experience Otto Drozd III gained managing fire services in Hialeah, the sixth largest city in Florida, serves him well in his current post, fire chief in the city of El Paso, the fourth most populous city in Texas. With Ciudad Juárez, Mexico, El Paso makes up the largest population center on any international border in the world.
Drozd has been a fire engineer, lieutenant, captain and district chief. After climbing the ranks by competitive examination for 20 years, Drozd became Hialeah's fire chief in 2001. As chief, he has been extremely committed to his fiduciary responsibilities. When he took the position eight years ago, the department was funded by the city at nearly 100 percent. Drozd has reduced municipal costs by 25 percent by seeking grants, creating strong relationships and fundraising creatively.
To be an effective leader, Drozd said, you must educate yourself first. He earned associate degrees in fire science and management at Miami Dade College.
MDC gave me the tools I needed to succeed and taught me how to apply myself. It gave me the impetus to further my education," he said.
Later, he earned a bachelor's degree in public management and a master's degree in management as well as completed the National Fire Academy's Executive Fire Officer Program.
Drozd works hands-on with the Board of Directors of the American Red Cross of Greater Miami and the Keys, the MDC Fire Science Advisory Board and the Southeast Regional Domestic Security Task Force.
— Staff Report