---
Cultural Spotlight
Variety abounds on College stages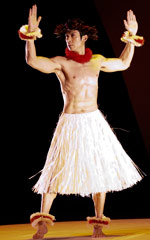 Keo Woolford brought his one-man show, I LAND, to MDC.
The department of arts and philosophy at Wolfson Campus recently ended its performance season with I Love You, You're Perfect, Now Change by Joe DiPietro and Jimmy Roberts. The popular musical about love and relationships capped off a year filled with entertaining comedies.
The department's season started strong in December with a musical tribute to Steven Sondheim. Side by Side by Sondheim included selections from famous Broadway musicals like Gypsy and West Side Story.
"Side by Side gave students the opportunity to change characters – and explore different personalities – within the same show," said Dr. Alan Ngim, professor of music.
Also in December, the music, theater and dance department at MDC's Kendall Campus presented Blithe Spirit, a comedy by the famed writer Noel Coward. This hilarious play surrounds a writer who gets a lot more than he bargains for when he arranges to have a local psychic entertain his guests with powers of the occult.
In the spring, the group performed I Hate Hamlet – a dramatic comedy set in John Barrymore's former apartment in New York City. The play focuses on the new tenant, successful TV actor Andrew Rally, who struggles with taking on the dream role of Hamlet.
"The play's subject matter speaks to theater students," said Deborah Mello, theater professor. "It's a contemporary American piece that was perfect for our students to explore."
Students in the Professional Actor-Training Program at the Prometeo Theatre of the Florida Center for the LIterary Ars had a busy year with three Spanish-language productions, Pic-Nic by Fernando Arrabal, Yo me llamoVirgilio Piñera and Chejov vs. Chejov.
Pic-Nic is one of Arrabal's best-known Absurdist pieces, about a soldier who receives a visit from his parents while in the trenches. Yo me llamo Virgilio Piñera is a series of monologues punctuated by the black humor and satire that characterizes the work of Piñera, a member of the famed Cuban literary group, Orígenes. And Chejov vs Chejov brought to life one of the world's most influential masters of modern theater and the short story, Anton Pavlovich Chekhov, in a selection of scenes from his plays and memoirs.
"Being the only Spanish-speaking conservatory in the nation is a great honor," Joann Yarrow, Prometeo director, said. "But we are especially proud that our graduates will be prepared to walk into any theater in the world, confident in their abilities, ready to work and continue to develop their craft. Our curriculum cultivates and encourages each actor's distinctive potential."
In addition, two performances tapped into the immigrant experience that many members of South Florida's multicultural community share.
North Campus' music, theater and dance department premiered Our Lady of the Tortilla by Luis Santeiro (creator of Qué Pasa, U.S.A.?) to Miami audiences in October. The play tells of a Cuban-American family threatening to burst at the seams; when the old aunt sees the face of the Virgin in a tortilla, their Hialeah home turns into a suburban Lourdes.
And Marissa Chibás' autobiographical Daughter of a Cuban Revolutionary, part of the College's Cultura del Lobo performance series, tells of three towering figures in Chibás' life – her father, Raúl, who co-wrote the manifesto for the Cuban revolution with Fidel Castro; her uncle, Eddy, who was the frontrunner for the Cuban presidency in 1951 before committing suicide during a live radio broadcast; and her mother, Dalia, Miss Cuba runner-up in 1959.
Touching on a different immigrant experience, Keo Woolford brought his one-man show, I LAND, to MDC, also as part of Cultura del Lobo.
Using traditional Hawaiian hula, hip-hop, Hawaiian talk story and spoken word, I LAND is the acclaimed actor and hula dancer's moving search for the meaning of heritage in a post-modern world.
In addition to presenting theatrical works, MDC also celebrated music. A highlight of the Cultura del Lobo season was its closing performance, Grammy-winning jazz saxophonist Branford Marsalis.
— Katherine Joss
More Cultural Spotlight Articles