---
Features
Sharks celebrate another stellar year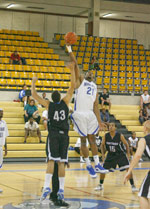 The Sharks men's basketball team captured the state conference title.
Once again, the Sharks of Miami Dade College have dominated Florida Community College Athletics, as all five intercollegiate teams qualified for post-season play and several student-athletes were honored as among the best in Florida and the nation.
At press time, the Sharks baseball and softball teams were competing in district tournaments, just one step away from nationals. The baseball team last qualified for the Baseball World Series in 2001, finishing sixth in the nation, and the Lady Sharks softball team competed at the national tournament in 2007, finishing fifth in the nation.
In the 2008-2009 season, the Lady Sharks volleyball team (24-8) won the Southern Conference Championship, the NJCAA Atlantic District Championship and the Florida Community College State Championship. The squad placed sixth at nationals, the team's 20th consecutive season finish in the national finals. The College has captured eight national championship wins.
Leading the way for the Sharks was Southern Conference Player of the Year Rosa Medrano, also honored as the Florida Community College Player of the Year and a First Team All-American. Medrano, a sophomore from the Dominican Republic, signed a scholarship offer to attend the University of Missouri.
In basketball, the men's and women's teams also qualified for the state tourney, with the women's team winning the Southern Conference Tournament Championship and the men's team capturing the Southern Conference Championship with a perfect 12-0 record.
The men's team was ranked third in the nation in the final NJCAA poll and finished the season with a 26-3 record, the best record for an MDC basketball team since 1983.
Leading the basketball teams were Kquanise Byrd, who was ranked second in the Southern Conference and honored to the Second Team All-State team. Byrd accepted an offer to continue her studies at Old Dominion University. For the men, sophomore Trevor Mbakwe was the Southern Conference Player of the Year, and made First Team All-State and NJCAA First Team All-American. Mbakwe has accepted an offer to attend the University of Minnesota.
In baseball, the Sharks captured a third-consecutive Southern Conference title and were ranked No. 1 in the nation at the start of the season. Currently ranked fourth in the nation, the 37-10 Sharks are led by sophomore Mycal Jones, the Southern Conference Player of the Year and an expected high draft choice in the upcoming Major League Baseball Draft. Also, pitcher Logan Dodds was recognized as the Southern Conference Pitcher of the Year.
Softball was led by freshman pitcher Erika Bennett, who set a school record for strikeouts. The softball team finished second in the Southern Conference and was ranked as high as ninth in the NJCAA poll this season. Catcher Vivian Morimoto was honored as a First Team All-Southern Conference selection. The squad holds a 29-20 record.
— MDC Athletics
More Features Articles