---
Features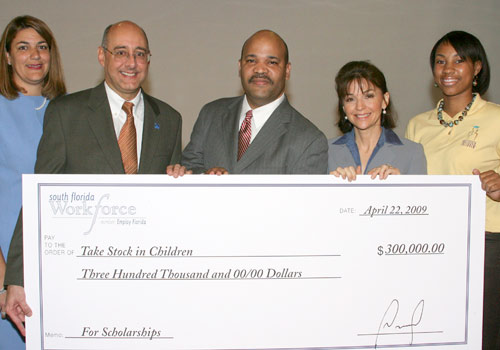 A community supports its college
Even in tough economic times, this community supports its college. MDC has received numerous notable gifts and grants from public agencies, private corporations and individuals who see value in the role the College plays as a leader in workforce training and development.
That's one of the reasons the South Florida Workforce board granted $300,000 to Take Stock in Children, a program housed at MDC's Wolfson Campus that helps children at a social and financial disadvantage succeed academically.
And why the Mitchell Wolfson Sr. Foundation gifted a landmark $11 million to the School of Nursing to establish scholarships, to assist with instructional costs and to cover the cost of training 600 new nurses who will work locally.
MDC's Foreign Physician Alternative Certification program – which provides orientation, assistance and training to foreign health care professionals living in the U.S. – was awarded $150,000 from BlueCross BlueShield of Florida. The program provides highly trained immigrants a route to re-enter the professions for which they were trained while, more importantly, filling a specific need for trained medical personnel in the region. It is also supported by the Department of Children and Families and the Florida Legislature.
The county's economic development partnership, the Beacon Council, presented MDC with $86,000 to establish the Dr. John Cordrey Endowment Teaching Chair in economics. Cordrey was the Beacon Council's vice president of research and strategic planning.
The National Endowment for the Arts gave MDC's Florida Center for the Literary Arts (FCLA) a major grant in support of The Big Read Egypt/U.S. The FCLA was only one of four organizations selected to promote this global cultural exchange program.
A $2.3 million grant from the U.S. Department of Education's Hispanic Serving Institutions Program supports MDC's Project PUENTES, the Partnership for Undergraduate Education in Natural Sciences for Transformational Engagement of STEM (the science, technology, engineering and mathematics disciplines). Funding sustains science and math programs at MDC while increasing the number of Hispanic and low-income students pursuing those majors at North Campus.
— Staff Report
More Features Articles