---
Features
New World School of the Arts wraps active year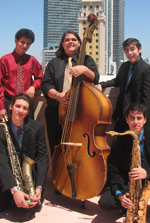 Students at NWSA received the National Foundation for the Advancement in the Arts Awards and President's Volunteer Service Award.
New World School of the Arts (NWSA) has had an active year, presenting the community with hundreds of performances and exhibitions and receiving accolades from all corners of the globe.
At the high school level, four talented students were granted the prestigious National Foundation for Advancement in the Arts Award for 2009. These protégés, who were selected from a nationwide pool of 8,000, were also nominated as possible Presidential Scholars. The civic-minded cellist and high school student Elliott Knofsky McCarthy received the President's Volunteer Service Award.
Recently, five high school music students were selected to participate in the Thelonious Monk Institute National Peer-to-Peer Jazz Education Program. These students played for and alongside their Pittsburgh peers and held musical workshops, working and learning together.
Each year, NWSA brings a bit of style to the halls of the Florida Capitol. During the annual Miami-Dade Days, locals speak with legislators directly about school needs and concerns. This year, NWSA's representatives wore memorable, stylish accessories created by college senior David García.
"For the past three years Gov. Charlie Crist has taken the time to greet NWSA students," said Maggy Cuesta, dean of visual arts at NWSA. "It's quite an honor for our college students to be selected to participate in the Miami-Dade Days ties and scarves annual competition."
A number of NWSA alumni have created a theatrical collective, The Wreckio Ensemble. These artists have been peppering New York City stages for nine years with their talent and conviction. The troupe's unique vision was fostered at NWSA and has flourished under the big city off-Broadway lights.
On the art scene, BFA alumni Bert Rodríguez and Adler Guerrier were selected to participate in the 2008 Whitney Biennial. This highly prestigious honor is bestowed upon some of the world's most influential, contemporary artists.
Other alumni honored their alma mater during Art Basel Miami Beach by donating art to a fundraising auction and exhibition. All proceeds benefited the school. The artists included Jen Stark, Naomi Fisher and Hernán Bas, who participated in the 2004 Whitney Biennial.
— Elizabeth Tracy
More Features Articles