---
Features
FCLA presents summer creative writing workshops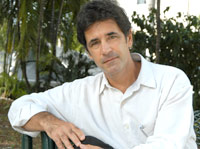 Poet and professor Michael Hettich will teach Intro to Environmental Writing
Study the writing craft this summer with published authors and poets. These non-credit courses are suited for experienced and novice writers.
The Building Blocks of Great Screenwriting with Ben Odell
Saturday, June 6, 10 a.m. - Noon, $50
In this intensive, four-hour master class, award-winning producer and screenwriter Ben Odell teaches the essential elements of screenplays from structure to character development, dialogue and beyond.
Turning Memories into Memoir with Neil de la Flor
Mondays, June 1 - July 6, 10 a.m. - 2 p.m., $125 ($100 for MDC students and faculty)
Join this fun and innovative introductory course to memoir writing. Open to everyone, from beginners to advanced writers, this course will encourage students to find what they've forgotten and turn those memories into fabulous works of prose and poetry.
Writing Earth: An Intro to Environmental Writing with Michael Hettich
Tuesdays, June 2 - July 7, 6:30 - 8:30 p.m., $125 ($100 for MDC students and faculty)
In this six-week workshop, students will write and critique poems, stories and personal essays that take the natural world as their subject matter.
Writing Really Short Stories: All About Flash Fiction with David Beaty
Thursdays, June 4 - July 9, 6:30 - 8:30 p.m., $125 ($100 for MDC students and faculty)
In this workshop students will investigate very short stories and write their own. They'll read and discuss anecdotes, scenes, advertisements, jokes, parables, prose poems, and very short fiction by established writers such as Hemingway, Peter Altenberg and Jayne Anne Phillips.
Call 305-237-3940 or visit www.flcenterlitarts.com.

More Features Articles