---
Academics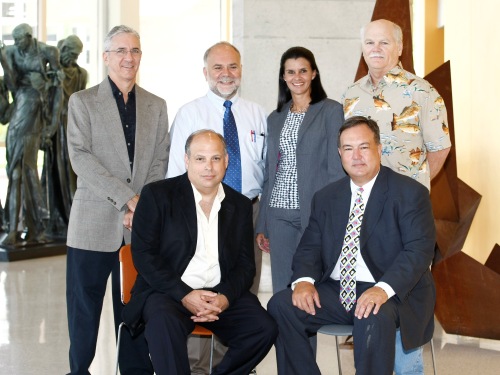 Top faculty honored with Endowed Teaching Chair awards
Mathematics professor Alina M. Coronel understands that most people aren't as passionate about her subject as she tends to be.
She also believes that all people can learn mathematics if they are given the right tools, time and techniques. Whether it's online or face-to-face, a dry erase board or chalkboard, any medium can be adapted to reach students, Coronel said.
"I find myself fortunate enough to be at an institution that encourages me to share all that I have discovered and love," said Coronel, one of six MDC faculty honored with a 2009 Endowed Teaching Chair award.
"I have dedicated my career to changing how students think about learning mathematics."
Highest honor
The Endowed Teaching Chair award is MDC's highest faculty commendation. A committee of faculty members selected these distinguished professors to be recognized for developing effective teaching strategies, demonstrating professional growth and making student learning their top priority.
Honored this year with Coronel were music professors Dr. Michael Di Liddo, Dr. Eugene "Gene" Greco and Dr. Richard Rose; American government and social sciences professor Alex Gancedo; and business professor Dr. Christopher W. Rogers.
Each recipient receives an annual stipend of $7,500 over three years. To receive an award, applicants undergo a rigorous screening process. In addition to a 15-page narrative, they also submit official transcripts, performance reviews, self-assessments and student feedback for the prior three to six years of full-time teaching. Since the program's inception in 1992, more than 250 awards, worth $5.6 million, have been bestowed on MDC faculty.
"As much as any program at the College, the Endowed Teaching Chair reflects who we are as an institution," MDC President Dr. Eduardo J. Padrón said. "On a day-to-day basis, these professors accomplish the heart of MDC's mission."
Key to that mission is dedication to instructional excellence and to the community. "Some of our faculty are extremely prolific," said John Adkins, who chaired the Endowed Teaching Chair committee.
"It's nice to see how faculty members integrate their experiences and give students an opportunity to have insight into what it means to be a professional in any given discipline," he added.
Rogers, who has published extensively, said he believes it's important to keep "as current as possible and remain actively involved in our area of expertise."
"Not all faculty members at a two-year college write professionally, but I think it is a matter of choice and personal desire," he added. "I have been here for nearly 30 years, so I guess I'm in a comfort zone."
Beyond the classroom
A jazz musician who has recorded music and performed with Jamey Aebersold, Danny Gottlieb, Bobby Watson and many other accomplished artists, Di Liddo groomed the Hard Bop Jazz Ensemble into one of MDC's most accomplished student ensembles. The group has performed at jazz festivals in Switzerland, Italy and The Hague.
Rose, a Kendall Campus music and humanities professor, teaches a wide range of courses, from Internet Applications in Music Business to the History of Jazz and Popular Music in America. Additionally, for the past 12 years he's chaired or co-chaired the Kendall Campus Arts & Letters Day event.
Coronel, the Kendall Campus mathematics professor, developed online curricula for Intermediate Algebra and Business Calculus. To bridge the gap between the traditional and online course modalities, Coronel produces video lectures and PowerPoint presentations, and holds online lectures using the Live Classroom software.
"Students who attend these live online lectures are able to view and hear responses to questions relating to course content," she said. "In essence, students can 'attend' class and receive the same instruction as a traditional campus class from any location with Internet access."
— Gariot P. Louima
More Academics Articles