---
Academics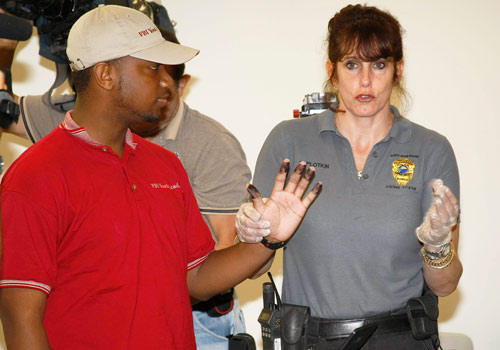 Area students get a glimpse behind the badge
For a second summer, nearly 40 Miami area junior and senior high school students came to MDC's North Campus to learn about the exciting world of the FBI – and get a jumpstart into a possible career.
For one week this summer, these students were fully immersed in hands-on learning modules that included mock crime scene investigations and other public safety-themed activities designed to demonstrate how real-world challenges are solved using expert investigation techniques.
MDC's School of Justice and its Law Enforcement Academy partners with the Miami Division of the FBI and the FBI Citizens' Academy Alumni Association of South Florida to offer a one-of-a-kind youth academy where students learn about the FBI, its history, mission and operations.
The academy was originally established as a community outreach project to introduce public school students to the often private and exclusive world of law enforcement as well as to provide insight into job opportunities. It's the only program of its kind in the United States, said Fredric Toney, assistant director of advisement and career services at North Campus.
"Students get a unique opportunity to meet and interact with law enforcement personnel in a myriad of activities, while attending sessions that focus on leadership skills development, critical thinking and team building," Toney said.
The academy includes an intriguing mix of classroom, laboratory, outdoor and field trip activities. Students learn about areas ranging from white collar crimes and Internet fraud to gangs and organized crime.
"The FBI Academy exposes students to career options they may never have known about," Toney said. "This is important because law enforcement is a growing field. The number of police and detectives is expected to grow by 11 percent over by 2016. The students also have a lot of fun. The only complaint we get is that the week is too short!"
At the academy, students also learned about MDC's School of Justice and programs that can lead to associate and bachelor's degrees as well as certifications in various areas of public safety, including fire, police, corrections and private security.
— Barbara Bickel
More Academics Articles