---
Alumni News
Maurice L. Kemp took the reins as Miami's fire-rescue chief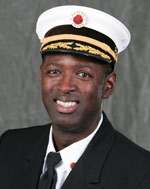 MDC alumnus Maurice L. Kemp recently took the reins as Miami's fire-rescue chief, the first African-American to hold the post in the city's history.
Kemp has been with the Miami fire department for 24 years and has held the positions of lieutenant, captain, assistant fire chief and deputy fire chief. 
As deputy fire chief since 1999, he has overseen the technical, management, support, communication and emergency management services, as well as developed and managed budget and legislative functions. In addition, in 2006 he was appointed the program chief and task force leader for U.S. Department of Homeland Security, FEMA Urban Search and Rescue.
Kemp has received accolades throughout his career including the Dr. A. Mancebo Memorial Award and recognition from the 5000 Role Models of South Florida. He received the Mancebo award while a student at Miami Dade College, where he completed his studies in the Respiratory Therapy program.
"He was a class leader as evidenced by his receipt of the prestigious Mancebo award for outstanding clinical skills," said Dr. Carol Miller, dean of health sciences at Medical Center Campus. "His fellow students recognized his ability to care for patients and he always maintained a positive attitude in all that he attempted."
Years later Kemp returned to Medical Center Campus to complete his training as a paramedic.
"Both of these programs prepared me very well for my professional life," he said. "The curriculum was directly related to the work place. I would learn a particular skill in paramedic school and practice it that night at work."
For Kemp, the transition from the respiratory therapy classroom to the intensive care units at South Miami Hospital was seamless.
"I was a better paramedic because I was a respiratory therapist," he said, "and I was a better respiratory therapist because I was a paramedic."
Of Miller, his former professor, he recalled: "When I graduated from the Respiratory Therapy program, she asked me if I was going to continue on to medical school. My answer was no, but I really appreciated the fact that she thought enough of my abilities to think that I should go on to become a doctor."
Kemp also holds a bachelor's in biology and a master's in public administration.
More Alumni News Articles