---
Features
For international scholars, MDC is a U.S. gateway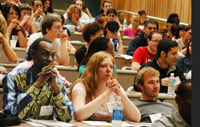 International scholars at MDC
Nearly 100 international scholars arrived at Miami Dade College from far away nations and territories, anxious to embark on their most ambitious academic endeavor yet. For many, it was their first glimpse of the U.S.
"Miami is their gateway, their first port of entry on their way to U.S. colleges and universities," said Maureen O'Hara, an MDC professor and director of the Fulbright Gateway Orientation program.
MDC has hosted the Fulbright orientation since 2004. The cultural and academic training program – sponsored by the U.S. Department of State's Bureau of Educational and Cultural Affairs and the Institute of International Education – prepares recipients of the prestigious Fulbright scholarships for life in the U.S., where they will work on master's and doctoral degrees at universities throughout the country, including Harvard, Columbia, Cornell, Yale and Georgetown universities.
The scholars choose to study in the U.S. for different reasons, O'Hara said. "The exciting part is that they come from so many different countries, cultures, languages, political systems and ethnic groups," she said.
This year's scholars hailed from Spain, Turkey, Chile, Switzerland, Pakistan, Nepal, Colombia, Italy and Norway, among many others. During their five-day stay, they attended sessions that covered academic skills, graduate student life and cross-cultural awareness.
Some Fulbright scholars who completed their studies and are still living in the U.S. were on hand to help provide practical advice – how to shop for an apartment, open a bank account or mail a letter.
The group also enjoyed dinner at The Knife restaurant, a boat tour departing from Biscayne Bay and visits to South Beach and Nikki Beach.
"I won't be able to express how much I found the Gateway fantastic and how passionate all the staff was," wrote Youssef Jai, a scholar from Morocco who attended the orientation in 2006.  "Leaders of the world should come to this kind of meeting to see how mutual understand and respect works."
— Sue Arrowsmith
More Features Articles