---
Features
College sets bar with Dual Language program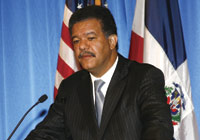 Students in the Honors College Dual Language Program interact with leaders such as Dominican Republic President Leonel Fernández.
A premier academic program of The Honors College at MDC received the Innovation of the Year award from the League for Innovation, an international organization dedicated to catalyzing the community college movement.
Each year the league honors outstanding programs that represent capstone achievements in the spirit of innovation and experimentation. The Honors College Dual Language Program, launched three years ago, follows a dynamic form of education that develops high levels of academic achievement, bilingualism and biliteracy and cross-cultural awareness.
Students immersed in an academic program in English and Spanish improve their proficiency in both languages, increase their marketability in the workplace and expand the job opportunities available to them in the future.
"It is an amazing honor for our program to be recognized by the League for Innovation," said Jennifer Bravo, Honors College director at MDC's InterAmerican Campus, where the program is housed. "Our faculty, students and administrators have worked very hard to ensure this program made the transition from a vision to a reality."
The program has graduated 60 students who have been accepted to universities across the nation, including University of California at Berkeley, Georgetown, Georgia Tech, NYU, Cornell, Columbia, and many more.
"This program is a great avenue for bilingual students to strengthen or augment their skills in English and Spanish for professional advancement," Bravo said. "Students in the Dual Language program are also exposed to study travel and leadership experiences provided through The Honors College that significantly enhance their academic and social development and give them a more competitive edge."
— Barbara Bickel
More Features Articles