---
Features
MDC sweeps national business challenge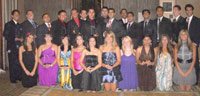 MDC members of Phi Beta Lambda student organization
MDC students swept a national competition for business students at a conference in Anaheim, Calif., proving they are among the best in the nation when it comes to thinking on their feet and quickly composing responses that are professional, accurate and to the point. 
The students were members of Phi Beta Lambda (PBL), a prestigious national business organization, and they took the top spot in numerous categories at the 2009 PBL National Leadership Competition, beating students in four-year business programs from across the country.
MDC students competed in more than 50 events and won nearly a dozen first-place awards and as many second and third place spots. 
"These competitions provide opportunities for our students to adapt to a variety of unanticipated situations," said María Marí, a PBL advisor and professor of accounting and economics.
"The students learn how to deal with 'on-the-spot' problems and resolve them immediately," she added. "This reinforces their knowledge of the subject matter and gives them a tremendous boost in confidence because they are competing against juniors and seniors from universities with a larger academic background." 
With 11,000 members, PBL is the largest national student organization. Through participation in PBL, students are given the opportunity to prepare for future careers by polishing and testing real-world skills, including team building, oral and written communication, leadership, goal setting, fund raising, job interviewing, and resume writing, among others.
"The MDC chapters have worked tirelessly to create and foster a stellar name and reputation for the College on a national level," said Barbara Rosenthal, a PBL co-advisor and professor of marketing. "PBL is a rewarding and energizing experience, both for the students and the advisers."
Faculty advisors dedicated hundreds of hours to prepping students for the competition.

— Barbara Bickel
More Features Articles