---
Academics
Nurturing Connections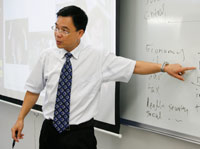 Chinese Fulbright Scholar Huang Lei
The establishment of a Confucius Institute at Miami Dade College further strengthens the educational cooperation between MDC and key Chinese institutions.
Huang Lei, a business professor and college administrator from Guangzhou, China, spent an academic year at Kendall Campus as a scholar-in-residence.
A recipient of the Fulbright Scholar grant, Lei taught courses in international business and financial management, in addition to serving as a cultural ambassador to the College.
Additionally, several dozen air traffic controllers from the Civil Aviation Administration of Shanghai arrived at MDC's Eig-Watson School of Aviation at Homestead Campus to learn best practices in air traffic management.
The program covered supervisory and management principles, training assessment, communication methods, strategic planning, motivation and ethics, among other topics.
In addition to classes at Homestead Campus' aviation facilities, the guests received comprehensive, hands-on education in administration, piloting and air craft maintenance at Miami International Airport and Kendall-Tamiami Executive Airport.
Finally, 11 students from China's Tianjin Professional College began an eight-month course of study in hospitality management at MDC.
They took courses in hospitality management that were adapted from guidelines developed by the American Hotel & Lodging Association.
— Gariot P. Louima
More Academics Articles