---
Academics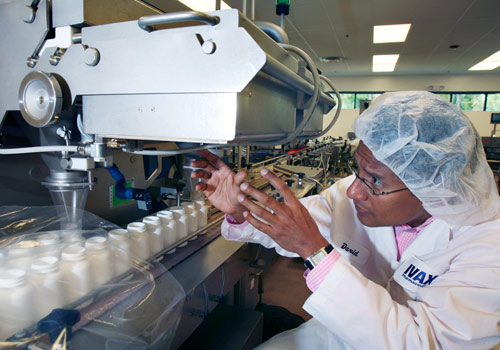 New tracks provide industry-grade training
Despite the weak economy, there is still a high demand for workers with special skills, such as the ones that will be taught through Miami Dade College's newest associate degree and college credit certificate programs.
For two years, the College has been developing the Associate in Science in Advanced Manufacturing and College Credit Certificates in lean manufacturing and automation. Housed in the School of Computing and Engineering Technologies, the new programs are funded by a $3.5 million U.S. Department of Education grant.
Among other initiatives, the College gathered information from focus groups comprised of leaders from local organizations – including the South Florida Manufacturing Association, Noven Pharmaceuticals and Johnson & Johnson/Cordis Corp. – to identify the skills needed to work in the growing manufacturing industry.
"We were very responsive to these focus groups," said Gita Runkle, interim director of MDC's biotechnology program. "Ultimately, these programs will allow students to get their foot in the door by gaining access to entry level work in the field."
The 60-credit associate degree prepares students for jobs as manufacturing technicians who, besides having relative job security and opportunities for growth, earn an average annual starting salary of $46,000, according to the Florida Department of Education. "Technicians often take leadership roles and often times are offered opportunities as engineers," said Dr. Michael Whitt, engineering chair for MDC.
The 15-credit automation certificate program will provide training in operations and troubleshooting, while the 12-credit lean manufacturing certificate program will focus on inventory control and production efficiency.
"Lean and automation are the two most current topics in manufacturing," Runkle said. "With these programs we are definitely meeting the needs of the industry."
— Pilar Ulibarri de Rivera
More Academics Articles