---
Features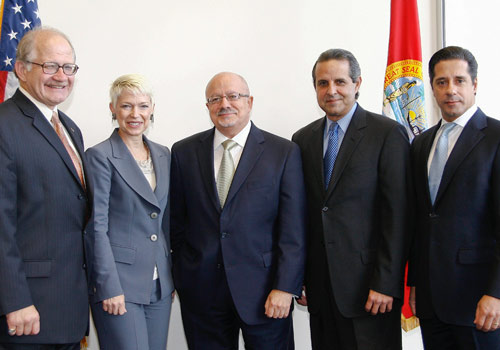 Degrees equal dollars for Miami economy
If Miami's leading educational institutions can work together and increase the number of college graduates with baccalaureate degrees in the city by one percentage point – or 16,000 more graduates – the result would be $1.7 billion in aggregate personal income for the metro area each year.
That equation, part of what's called the "talent dividend," was the focus of a recent meeting of three-dozen leaders in government, business, civic life and academia at Miami Dade College. MDC President Dr. Eduardo J. Padrón hosted the invitational event with FIU President Dr. Mark Rosenberg, Miami Mayor Manny Díaz and Miami-Dade Schools Superintendent Alberto M. Carvalho.
The gathering served to familiarize leaders with a national initiative of CEOs for Cities to increase the "talent dividend" in 50 key cities throughout the U.S.
CEOs for Cities is a national network of urban leaders dedicated to building and sustaining the next generation of great American cities. Carol Coletta, the president and CEO, said the group would like to couple the talent dividend with the "green dividend," an aggregate decrease in travel by one mile, and the "opportunity dividend," decrease the poverty rate by one percentage points.
"If we could make these three modest improvements in performance in the top 50 metro areas, this translates to a $166 billion value, annually," Coletta said.
In his introductory remarks, Padrón said the meeting was organized to work toward viable solutions for the region. "As institutions of higher education, we need to work toward a common goal," he said.
"We can't do it alone," Padrón said. "It takes a village. In two hours, I think we can take important steps."
— Gariot P. Louima
More Features Articles