---
Academics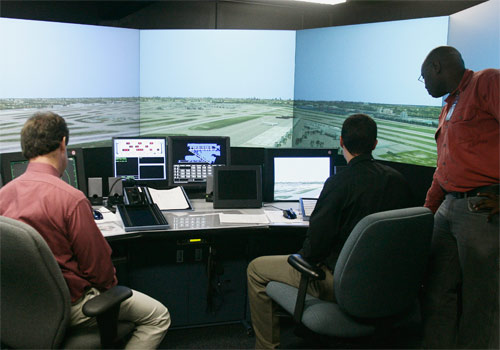 MDC meets demand for air traffic controllers
Air traffic controllers are in high demand as the nation faces a severe shortage of workers. The FAA recently announced that the industry needs nearly 11,000 controllers by 2019 to replace current air traffic controllers who will be retiring.
Miami Dade College's Eig-Watson School of Aviation is helping to meet this demand. Three hundred students are enrolled in the aviation school, and many are studying to become air traffic controllers. The school is one of the few FAA certified air traffic training centers in the nation. To draw more students to the profession and ensure they learn cutting-edge techniques, the school recently installed state-of-the-art air traffic control simulators. The new en-route and terminal radar simulators and the 180-degree air traffic control tower simulator, located at the approximately 38,000-square-foot aviation facility at Homestead Campus, give students hands-on experience.
"Our new, cutting-edge simulator technology, combined with 40 years of aviation training experience, top-notch faculty and opportunities to intern at FAA facilities at -Miami International Airport, give our students a strong foundation for achieving success in the air traffic control profession," said Diana Lewis, director of the Eig-Watson School of Aviation. "In fact, the Eig-Watson School is so widely known for its premier teaching that school faculty conduct international training for air traffic controllers."
Aviation classes also are offered at Kendall-Tamiami Airport and Miami International Airport, where students are literally immersed in the aviation industry.        
— BB
More Academics Articles