---
Alumni News
MDC was banker's golden opportunity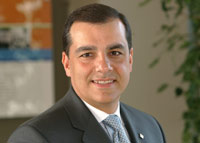 Israel Velasco
Miami Dade College alumnus and 2010 Hall of Fame honoree Israel Velasco always had a clear vision of his road to success.
Already as a young man, Velasco was interested in finance and working with people, so he knew that banking would be a natural fit. He started his career early, working as a teller at a local bank, which in turn led to a variety of retail banking positions, including one that would prove crucial – his job as a commercial lender.
By age 37, he became one of the youngest high-ranking bank executives in the region when he was appointed as president and CEO of Colonial Bank's $3-billion, 45-branch South Florida operations.
As region executive of Banco Popular North America, Velasco currently oversees the retail and commercial banking of its 20 branches in Central and South Florida, as well as its successful Popular Association Banking Unit, which serves community associations in 19 states.
Velasco credits his success as a banker to his "clear focus, determination, consistency and a solid education."
"Miami Dade College gave me a great opportunity that I wasn't going to get anywhere else," Velasco said recently. "It gave me the jump-start I needed to continue my education and pursue my career."
— HP
More Alumni News Articles