---
Alumni News
Whimsical wisdom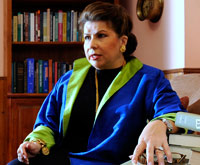 Carmen Reinhart
The New York Times recently called MDC graduate Carmen Reinhart "the most influential female economist in the world." 
Helping generate buzz around the globe is her new book, This Time is Different: Eight Centuries of Financial Folly, which she co-wrote with Kenneth Rogoff.
Centuries of documentation
Reinhart and Rogoff pored over thousands of documents to produce a book that studies the similarities of the recurring booms and busts that have characterized economics around the world for generations.
Born Carmen Castellanos, Reinhart lived in Cuba until she was 10 years old. Her father, an accountant, moved the family to the United States, where he became a carpenter and his wife a seamstress.
Change of heart
Reinhart went to MDC to study fashion merchandising. Out of the blue, she decided to take an economics course and got hooked.
After finishing at MDC, she continued studying economics, eventually earning a Ph.D. at Columbia University and becoming the chief economist at Bear Stearns investment bank.
Reinhart is now a professor of economics and director of the Center for International Economics at the University of Maryland. She and Rogoff began writing their book in 2003. After it was published in 2009, New York Times columnist David Brooks praised it as the "best explanation of the [financial] crisis."
And it all started from one class she took on a whim at MDC.
— WV
More Alumni News Articles