---
Features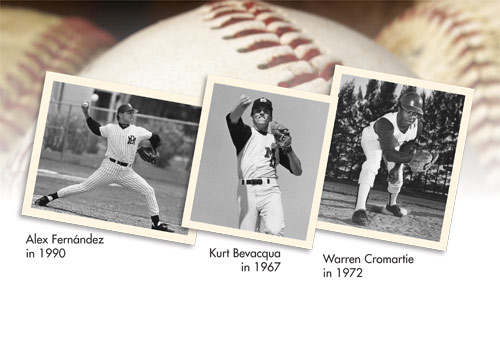 MLB finds stars at MDC
When it comes to preparing baseball players for success in the major leagues, Miami Dade College is the envy of colleges and universities across the country.
Nearly 500 former MDC players have gone on to play pro baseball, and 70 of those have made the major leagues, where the starting salary is now more than $400,000 per year.
Here are some of the biggest baseball stars ever to come out of MDC:
• Steve Carlton — The left-handed pitcher won four Cy Young awards and was voted into baseball's Hall of Fame in 1994. A 10-time All-Star, he won two World Series titles.
 • Mike Piazza — He is regarded as the best-hitting catcher of all time and is likely headed for the Hall of Fame when he is eligible in 2012. No other catcher has ever hit more home runs.
 • Alex Fernández — The dominant right-handed pitcher won 107 games in the big leagues and helped the Florida Marlins win their first World Series in 1997.   
 • Bucky Dent — The three-time All-Star shortstop won a pair of World Series with the Yankees. He is remembered for the dramatic home run that beat Boston in 1978. 
 • Mickey Rivers — During his career, the speedy center fielder led the American League in steals and triples (twice), made the All-Star Game and won two World Series with the Yankees.
 • Raúl Ibáñez — The Phillies' outfielder played in the 2009 World Series and the 2009 All-Star Game, both career firsts for the veteran. 
 • Plácido Polanco — The infielder is still active with the Phillies, and he has already made the All-Star Game, played in a World Series, won two Gold Gloves and was the MVP of the ALCS.  
 • Warren Cromartie — The outfielder played 10 seasons in the majors, compiling a .281 career batting average. He also played several years in Japan.
 • Kurt Bevacqua — His home run in 1984 won Game 2 of the World Series. It still stands as the only World Series game the San Diego Padres have ever won.
 • John Cangelosi — The outfielder was part of the 1997 Florida Marlins team that won the World Series.
— WV
More Features Articles