---
Making Their Mark
Entrepreneurial endeavors take MDC student to Stanford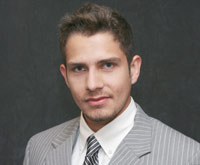 Anibal Montes
Networking and learning to develop a winning business plan are essential for entrepreneurship, and MDC student Anibal Montes was able to do both when he participated in Stanford University's prestigious Society for Entrepreneurship in Latin America (SELA) summit.
Montes, a business administration major and 2010 graduate of MDC's North Campus Honors College, secured one of only 24 delegation seats from among 400 applicants to attend the week-long conference.
Designed to help hone students' entrepreneurial skills, the event brought students together with successful executives who mentored them on such topics as developing a business plan and presenting that plan to venture capitalists.
"They are people like you and me, but they had a vision, gathered the perfect teammates, worked hard and made their vision feasible and real," Montes remarked about his access to respected executives.
Montes hopes to do the same, starting with the creation of a SELA chapter at MDC that will provide opportunities for students interested in entrepreneurship.
— NM
More Making Their Mark Articles