---
Academics
Taking the Fast Track to Business, Computer Jobs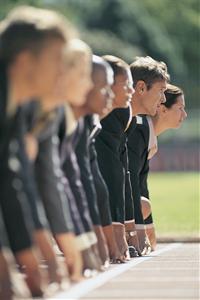 Ambitious students can earn degrees in business and computer information technology in just a year in MDC's new accelerated associate degree programs.
Packing two years of study into one is not for the fainthearted, but Miami Dade College knows there are students eager to jump-start their careers sooner who are willing to work harder to do so.
MDC recently implemented two accelerated associate degree programs. At the Wolfson Campus, students can now complete an Associate in Arts with a pathway to a degree in Business Administration or an Associate in Science in Computer Information Technology (CIT) in a year, instead of the traditional two.
A Challenging Opportunity
"We are targeting students who identify themselves as independent, computer-savvy and dedicated," said Chris Kinnaird, chair of the Computer Information Systems Department at the Wolfson Campus. "For the student who is up to the challenge, it is a great opportunity."
After completing the CIT program, graduates are ready for careers in Web design, IT support, computer repair, network administration and more.
"CIT is a broad-based degree," Kinnaird said. "It exposes you to a variety of subjects, and those courses are tied to industry certifications as well."
Business Savvy
With an A.A. in Business Adminstration, students can apply to upper-level programs at institutions offering bachelor's degrees in business, including MDC with its Bachelor of Applied Science in Supervision and Management.
"Besides expediting your skills set, the accelerated degree is very well-scheduled," said Gita Runkle, chair of the Business Department at the Wolfson Campus.
Each four-week class in the program uses a combination of online sessions and face-to-face classes, which meet on the same day and time throughout the year. The program's courses also are open to other students, according to their needs.
"This could turn out to be a new model for higher education," Kinnaird said.
— PUR
More Academics Articles