---
Academics
Mapping New Paths to Success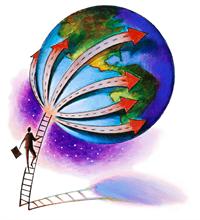 The Roadmap Project helps students become active partners in their quest for academic success.
Pointing students in the right direction as they pursue their degrees helps them succeed in the classroom. But teaching them how to chart their own intellectual course, both on campus and beyond, guarantees that they will become lifelong learners, excelling not only in college but also in their professional endeavors afterward.
This is the goal of the new "Roadmap Project," sponsored by the Association of American Colleges and Universities (AAC&U) and funded by MetLife Foundation, which supports education, health, civic and cultural organizations. Miami Dade College has been chosen as one of just 12 community colleges across the country to lead this initiative.
Part of its Liberal Education and America's Promise (LEAP) initiative, AAC&U's "Roadmap Project" aims to lend a hand to community colleges as they create robust, proactive programs of academic support to engage students from the onset of their college lives, teaching them how to become active partners in their own quest for educational success. By linking together student support programs that already exist at community colleges, this project seeks to develop "roadmaps" that can be replicated at other institutions. Each roadmap will be built on a foundation of expected learning outcomes that students need to master in order to succeed in the real world.
"It is a 'must' in this economy that we prepare students to succeed after college by giving them a high-quality education," said AAC&U Vice President Susan Albertine, leader of the initiative. "Joining together influential educational leaders to create these maps and focusing on colleges that are learning-centered is exciting. We look to these leadership institutions to be catalysts for change nationwide."
Founded in 1915, AAC&U comprises 1,200 member institutions, including accredited public and private colleges and universities of every type and size. MDC President Dr. Eduardo J. Padrón is the immediate past chair of the AAC&U.
— BB
More Academics Articles