---
Cultural Spotlight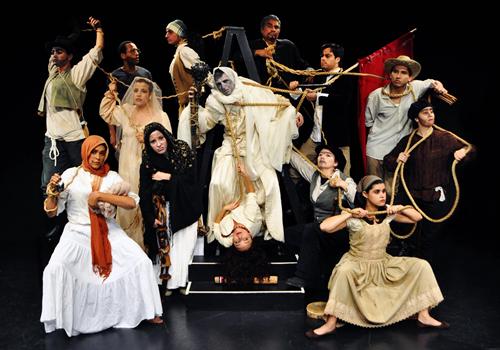 Prometeo Revives Lope de Vega Classic
In the late 16th and early 17th centuries, while William Shakespeare was revolutionizing English literature with his poetry and plays, Lope de Vega was doing the same in Spain. Called "the Phoenix of Wits" and labeled "the Monster of Nature" by Miguel de Cervantes for his massive artistic output, Lope de Vega wrote hundreds of plays and thousands of sonnets.
Blending elements of tragedy and comedy into his theatrical works, Lope de Vega tackled the issues of his day with insight, depth and lyrical brilliance. Now Prometeo Theatre at the Wolfson Campus aims to do this same in their contemporary adaptation of his classic Fuenteovejuna. Based on an actual historical event that took place in Spain in the 1500s, the drama tells the story of how a village banded together to kill a malevolent army commander in an age in which authority was never challenged by common villagers.
Under the skilled direction of Prometeo instructor Lilliam Vega, this play will be presented in Spanish at 8 p.m. Dec. 2-4 and 9-11 at Prometeo Theatre on the Wolfson Campus. Representing MDC, the Florida Center for the Literary Arts and Prometeo, these students will then hit the road on an extensive tour of this Spanish Golden Age drama along with Othello, which they performed at MDC last year. While sharing great classics with the MDC community and far beyond, the students are raising funds for theater scholarships and future productions, an endeavor that would surely make the entrepreneurial "Bard of Avon" and clever "Monster of Nature" proud.
— BK
More Cultural Spotlight Articles