---
Features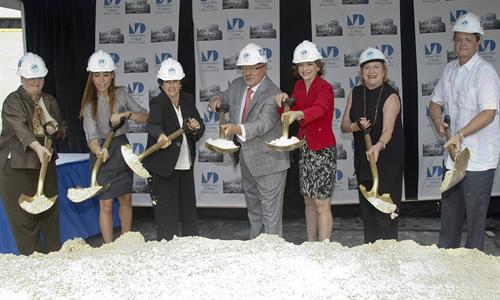 Building a Better Student Experience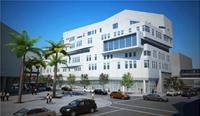 A rendering of the Student Support Center.
Shovels Dig in for Construction of New Student Support Center
Students at Miami Dade College have another great benefit to look forward to at the Wolfson Campus: a new Student Support Center building that promises to be a hub for student learning, student life and student health. College officials recently broke ground on the newest addition, and plans for the new Center include added classrooms and laboratories, meeting areas for student activities, a food court and a state-of-the-art Wellness Center to rival local gyms.
"Numerous studies have shown that student engagement is the key to retention and to their success both academically and professionally," said MDC President Eduardo J. Padrón. "This new building will enable more of that type of vital student interaction with its much-needed classrooms, faculty offices and places for students to meet and actively participate in a well-rounded learning experience."
The new center is one of the many ways in which MDC is keeping up with the growing needs of an increasing student population. It will allow for a multifaceted approach to enhancing student life not only through learning resources but also leisure and health activities.
New classrooms will allow high-quality, affordable education to continue to be accessible to students of all backgrounds, while Student Life facilities will provide opportunities for cultural enrichment and community involvement so that students can continue learning outside of the classroom. With the new ground-floor food court and sixth-floor Wellness Center, students will be able to nourish their bodies as well as their minds.
The new center is scheduled for completion by January 2012.
"It's not a typical classroom building, and it's not a typical support center," said Dr. Judy Schmelzer, dean of administration at MDC's Wolfson Campus. "The building houses a mixture of programs that will surely become the hub of student life and learning at the Wolfson Campus."
The Student Support Center will also become the permanent home of the Lynn and Louis Wolfson II Florida Moving Image Archives, which have been temporarily housed at the Miami-Dade County Public Library in downtown Miami. This unique collection of film and video materials documenting Florida's history along with its rich and diverse culture includes television news footage, documentaries and home videos dating as far back as 1910.
— NM
More Features Articles