---
Features
Starting Locally, Finishing Globally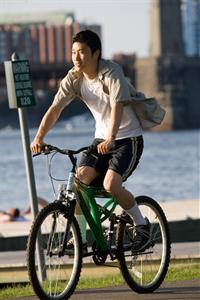 The Get2MDC campaign encourages riding a bike to school.
Small Green Efforts Have Impact Far Beyond MDC
Students, faculty and staff at Miami Dade College are doing their part to preserve the Earth, starting with small, local changes that have far-reaching effects. Whether it's through the food they eat or the routes they take to get to class, the MDC community now has more green options than ever before.
CROPS on More Campuses
In October, the College's Earth Ethics Institute (EEI) expanded its organic produce program from Wolfson Campus to Kendall and InterAmerican campuses. Created in 2009, MDC's Community Rooted Organic Produce Services (CROPS) purchases organic fruits and vegetables from local farmers and offers them at discounted prices through on-campus, biweekly sales. In addition to providing students and staff with healthier, less expensive produce alternatives, the CROPS program helps reduce the MDC community's carbon footprint, since buying locally reduces the fuel required to get food from the farm to consumers' tables.
Saving Some Green
Miami Dade College's new Get2MDC campaign makes it easier for students to "green their commute" by offering directions and alternative routes to each campus. For example, a student planning a commute to the Wolfson Campus can visit Get2MDC.com and find public transit routes, map out a safe biking path or register to carpool with other students. The website's calculator helps commuters learn how reducing their carbon footprint also cuts costs, saving MDC students and staff some green while making Mother Earth a bit greener, too.
— NM
More Features Articles