---
Making Their Mark
Using Her Crown to Fight for a Cure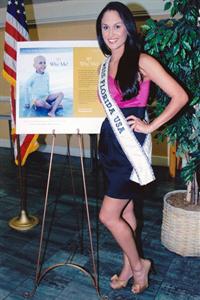 MDC student Lissette García, who is now Miss Florida USA, promotes cancer awareness.
Mixing medicine and modeling, Miami Dade College student Lissette García has recently found herself in the spotlight now that she has been crowned Miss Florida USA 2011.
But rather than bask in her newfound fame, the aspiring physician assistant is turning attention to an issue that is close to her heart: cancer awareness.
García, who is 25, lost her grandmother to ovarian cancer when she was only 8 years old.
"It affected me greatly," she said. "I never understood why it happened. As I got older, I needed to find out more. And now that I have this title of Miss Florida, I am using that to help increase cancer awareness in every way I can."
Coming from a family of doctors and nurses, García took an internship five years ago at a sleep disorder clinic and became fascinated by the subject. She started educating her patients on sleep apnea, a disorder characterized by abnormal pauses in breathing while sleeping.
"Sleep apnea is so common, yet people don't know about it," said García, who is licensed as a sleep study technician.
Now working on an associate degree at the Wolfson Campus and planning to continue at MDC for a bachelor's degree in physician assistant studies, García said she is grateful she decided to remain in South Florida to further her education.
"The flexibility of MDC's class schedule allowed me to go to school and still work two jobs so that I did not have to take on debt to get a great education," said the Miami native who attended Southwest High School. "And because MDC offers more classes than other colleges, it was definitely the best choice."
— WV
More Making Their Mark Articles