---
Academics
Angelo Bribiesca's world by word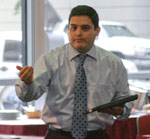 Angelo Bribiesca
Angelo Bribiesca brings the world to MDC students by way of his mastery of foreign languages – and computer technology. Through his integration of state-of-the-art Web-enhanced courses along with old-fashioned one-on-one interaction, this instructor is short of becoming a legend at MDC's Hialeah Campus' ESL and Foreign Languages Department.
"I try to give a variety of activities to keep students interested and active, while also making the classes fun and humorous," Bribiesca said. "This brings the tension and fear down to the point where students feel comfortable."
In addition to using computer technology to make classes more interactive, Bribiesca makes use of Web sites that broadcast live TV and radio in the language being taught in order to show students its relevance through usage in real-life applications. He also has them participate in online exploration of foreign-language sites.
"I believe that students learn more about themselves while learning about others, and learning a new language gives them the best opportunity to reflect on themselves," said Bribiesca. "A foreign language not only develops language skills but also critical and creative thinking."
Born in Mexico, Bribiesca came to the U.S. as a 15-year-old eager to learn English, but more interested in computer programming, which he pursued in college. There he took his first French class, and "loved it." He also found that his English improved by studying French. So he added Italian and Portuguese to his foreign language curriculum – besides perfecting his native Spanish.
He began teaching Spanish for health care providers at MDC's Medical Center Campus in 2001, then French and Italian at the Wolfson Campus. In 2008 he obtained a faculty position at the Hialeah Campus, fulfilling his impassioned advocacy for foreign language instruction.
"Students that take a foreign language usually score higher in standardized tests," he said. "This is the reason why every college and university in America requires a foreign language competency for all bachelor's degree candidates."
— HP
More Academics Articles