---
Academics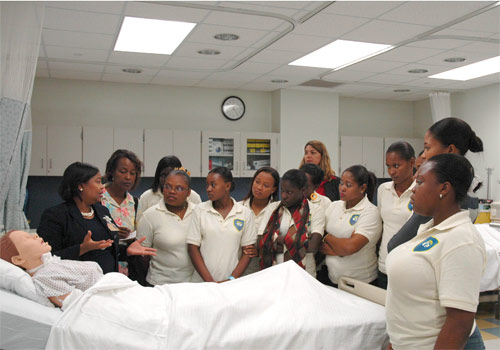 For Haitian nurses, professional is personal
The aftershocks of the catastrophic Jan. 12 earthquake in Haiti are still being felt at the heart of Miami Dade College. With a considerable number of our student body along with our faculty and employees being Haitian or of Haitian descent, MDC has an emotional stake in this enormous tragedy that truly hits close to home, and is actively involved in attempting to mitigate its ravages.
While relief efforts were immediately organized at all our campuses, our institution has always been intrinsically linked to Haiti with a long history of mutually beneficial collaborations and endeavors.
Last July, physician assistant program director Dr. Pete Gutiérrez and faculty member Pascale Gehy-Andre, a physician assistant himself, organized a medical mission to Haiti. Approximately 20 students and members of the physician assistant program, nurses and doctors delivered a variety of medical services to areas of the country that were most in need.
More recently, a group of nursing students from the Université Notre Dame d'Haïti visited MDC's Medical Center Campus.
During this visit, Madeline Pumariega, the Campus' administrative and student services dean, asked why they chose to enter the nursing profession. One student put it in perspective for all present when she said she simply wanted to help her mother, who suffers from hypertension-related fainting spells. Having no resources or access to health care made her feel powerless, she said. A degree in nursing would give her some power.
Anecdotes like this one were common among the two-dozen Haitian nursing students during their recent on-Campus academic exchange.
Good Samaritan for a Better Life, a Haitian nonprofit organization, Jackson Health and the Haitian American Nurses Association of Florida sponsored the visit to expose Haitian students to the U.S. health care system. They toured MDC's state-of-the-art facilities, like the human patient simulator and nursing labs, and met with faculty and students in the School of Nursing.
"This visit is a win-win for all parties involved," said Marie Etienne, senior associate professor of nursing at MDC and a member of the Haitian American Nurses Association. "I am thrilled to be able to welcome Haitian nursing students to MDC, one of the most prestigious institutions in America."
The visiting students also got to take back home much-needed unused medical equipment and supplies – all donated by the Medical Center Campus – along with a better understanding of our health care system and a great impression of our institution.
"We recognize Miami Dade College as one of the nation's best colleges and we are definitely thrilled to have these students get a positive worldview of colleges and universities in America," said Odiane Medacier, first vice president of the Haitian American Nurses Association.
— HP
More Academics Articles