---
Academics
Ecuadorean students can now transfer to MDC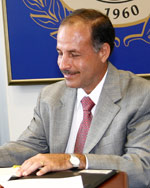 BHC President Johnny Gonzalez
Miami Dade College continues to expand its global reach. This time, with the stroke of a pen and a firm handshake, MDC has entered into an articulation agreement with Blue Hill College (BHC) in Guayaquil, Ecuador.
Dr. Eduardo J. Padrón, MDC president, and BHC president Johnny González signed an agreement allowing students enrolled in BHC to transfer to MDC to continue their education. BHC's primary focus is business administration.
"The partnership between MDC and Blue Hill is a joint recognition not limited by the traditional borders that separate countries and its peoples," said Dr. Padrón. "Learning should not be subject to those limitations and this partnership ensures it will never be."
MDC provides its students and faculty with many opportunities for enrichment in continuing studies. The College has articulation agreements with all state universities and more than 60 institutions across the globe.
— CJI
More Academics Articles