---
Cultural Spotlight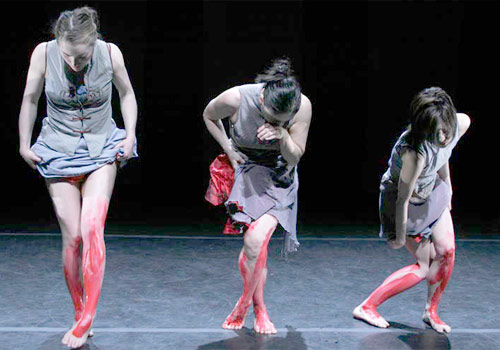 International performers at center of performance series
Miami Dade College's Cultura del Lobo Performance Series, established nearly 20 years ago by the College's Cultural Affairs Department, digs below the surface by continuing to seek out fresh, thought-provoking work that scratches the surface and provides a window to human expression from around the world.
The Series' next two performances explore personal and political perspectives in two very different continents and cultures.
Teatro en el Blanco, theater that "hits its target," according to Cultural del Lobo's organizers, is a theater company comprised of three Chilean actors and playwright/director Guillermo Calderón. Its most recent production, Diciembre, transports the audience to Christmas Eve 2014 as twin sisters welcome home their young brother, a soldier during a fictitious war between Chile and Peru.
This performance is part of a multi-city tour supported by the National Performance Network's Performing Americas Program, for which Cultural Affairs has served as curator since 2007. The performance will be in Spanish with English supertitles at the Manuel Artime Theater in Little Havana on Feb. 20.
From China, Performance Art
From the other side of the world, Chinese choreographer and performance artist Yin Mei poses the question: How does a fighter dance?
Born during the Chinese Cultural Revolution, she became part of a generation of survivors and fighters whose childhood was marked by political turmoil and violence.
"For me, the trauma of my early years has led, not toward social engagement, nor toward abstraction, but toward the unmapped provinces of my own heart. What I have come to understand is that my work is essentially an exploration of the wounded self," Mei explains on her Web site.
On March 19-20, she will bring her most recent performance, City of Paper, to Byron Carlyle Theater in Miami Beach. City of Paper recounts the history of Luoyang, Mei's hometown, an ancient literary and artistic center where paper was invented. Mei collaborates with Sang Jijia, who partners with her through a series of duets that pass by as if in a dream sequence with cinematic overtones.

More Cultural Spotlight Articles