---
Cultural Spotlight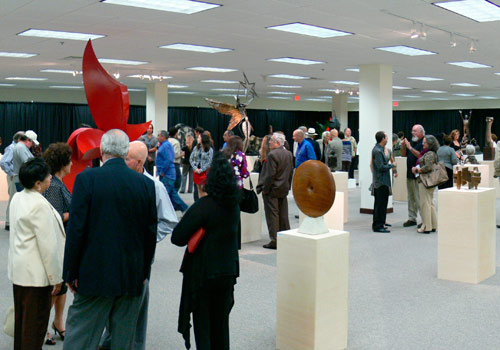 AGS celebrates art at MDC
As Miami Dade College commemorates its 50th anniversary, the Art Gallery System (AGS) has joined in this milestone's celebration with MDC Legacy, an exhibition of outstanding works from its permanent collection in a retrospective of the College as a respected art collecting institution.
For more than 45 years, the arts have played an important role in the cultural and educational life at the College. Currently owning more that 1,500 works, MDC has been instrumental in the development of the visual arts in South Florida as far back as when few other showplaces besides the North and Wolfson campus galleries figured in the South Florida contemporary art landscape.
The collection comprises a rich array of paintings, drawings, prints and sculptures by significant 20th-century artists, including Andy Warhol, Robert Rauschenberg, Ronald Bladen, Guido Llinás and Jesús Soto, among others.
"One of the goals of the MDC permanent collection is to enhance the educational environment for thousands of students, faculty and staff, while making MDC aesthetically pleasant for our visitors," said AGS director Jorge Gutiérrez.
MDC Legacy will be on display at The Freedom Tower in Downtown Miami though June.
Also through June at this historic venue is The History of Torture, an exhibition on loan from the Museo Medieval in Italy.
First hosted by the City of Florence in 1983, this collection has traveled throughout Italy, Spain, Portugal and Mexico all the way to MDC's Freedom Tower upon the specific request of the exhibition's curators, since the building once served as a refuge for immigrants – including political prisoners.
Featuring instruments of torture gathered from all over Europe, some dating back to the 16th and 17th centuries, the collection is seen in the light of contemporary issues and current events through wall text, extended labels, programs and explicative illustrations.
As an accusation of torture rather than an explanation, the exhibit's message is focused on the protection of human rights.
"This exhibition is above all intended to be a sign and a solemn warning; something which jolts our memory so that these events are never repeated, in the hope that man will soon regain his humanity and keep freedom as a permanent achievement," Gutiérrez said.
In a different artistic vein, yet with similar aim, MDC's West Campus Gallery's 31 Cuban Sculptors recently joined the international discourse of Cuban history through the visual arts. In this journey of aesthetic evolution that brought the past into the present, 26 sculptures, five posters of large-scale pieces permanently installed in Cuba, and several drawings attempted to reflect the country's identity through time from the first vanguard generation that emerged in 1927 to the most recent internationally renowned modern and contemporary art figures.
The AGS honors Black History Month with Posing Beauty – African American Portraits, a challenging exploration of the contested ways in which African and African-American beauty have been represented. This North Campus Gallery exhibit aims to challenge the relationship between beauty and art by examining the representation of beauty as a racialized act laden with preconceived notions, meanings and attitudes about class, gender and aesthetics through diverse media in historical and contemporary contexts.
Renowned photographers from early 20th century to emerging contemporary will be represented in this show. This exhibition concludes next month.
— HP
More Cultural Spotlight Articles