---
Features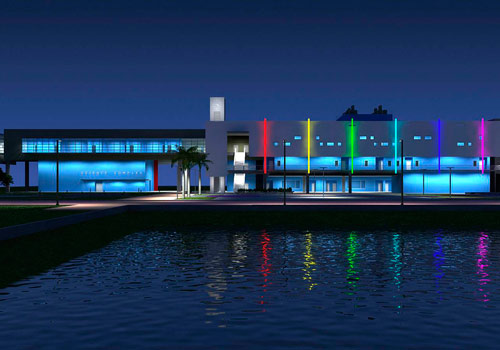 MDC celebrates inauguration of new science complex
Students, faculty and leaders of the scientific community joined Miami Dade College in celebrating the start of a new era in science education at the Inauguration Ceremony held January 19 for the new Science Complex at the North Campus.
The three-story, 90,000-square-foot facility replaced the campus' current science labs with 21 new, state-of-the art laboratories, a 200-seat lecture hall, an outdoor plaza and café and faculty offices. From its rooftop observatory tailored to astronomy and atmospheric sciences to a botanical garden with a greenhouse, the complex will support an array of disciplines, including biology, microbiology, chemistry, organic chemistry, biotechnology, environmental science, physics, forensics, earth science, botany and zoology.
"This new and innovative Science Complex has been designed to attract more students to pursue the Sciences as their fields of study as well as to enhance the learning environment and opportunities for science major students in the classroom and the laboratories," said Dr. José A. Vicente, campus president, noting that job growth in the science, technology, engineering and mathematic (STEM) fields is expected to grow substantially over the next 10 years.
During the ceremony, members of the MDC community buried a time capsule in the complex to be opened in 30 years. The official cutting of the ribbon was performed by Dr. Eduardo J. Padrón, president of MDC, who also spoke on the significance of the Science Complex, which was the first building to be inaugurated in celebration of MDC's 50th anniversary.
— NM
More Features Articles