---
Alumni News
Lessons on success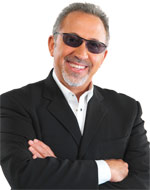 Emilio Estefan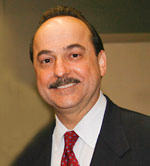 Ralph De La Vega
Most Miami Dade College alumni could write books about success. Emilio Estefan and Ralph de la Vega did.
Estefan, a 19-time Grammy Award-winning producer and songwriter, wrote The Rhythm of Success: How An Immigrant Produced His Own American Dream. In the book, which is part autobiographical and part motivational, Estefan, a Cuban refugee who started out with just an accordion, recounts how he built a music, restaurant and real estate empire. By imparting the lessons he learned along the way, Estefan encourages immigrants to achieve success on their own terms, with discipline and hard work.
"Against all odds, I was able to become a success in this country and I want to help others follow me do the same," Estefan told The Miami Herald. The Rhythm of Success hit bookstores in January.
De la Vega, President and CEO of AT&T Mobility and Consumer Markets, spoke to MDC's Honors College students recently about his book, Obstacles Welcome: How to Turn Adversity into Advantage in Business and in Life. Also a Cuban refugee, de la Vega moved to Miami at age 10 without his parents, without money, and unable to speak English.
Despite starting out with these clear disadvantages, de la Vega, just like Estéfan, claimed his piece of the American Dream.
In Obstacles Welcome, he writes: "The decisions I've made throughout the years to accept challenges and confront obstacles—and the effects of these decisions on my company, my colleagues, and the communities we serve — validate the courage and foresight of my parents and all the Cuban refugees who did what they did."
During his talk at MDC, de la Vega also stressed the importance of meeting challenges head-on, having a plan, thinking big and recognizing opportunities, all lessons he has shared when addressing audiences nationwide—and specifically with Hispanic youth
More Alumni News Articles