---
Cultural Spotlight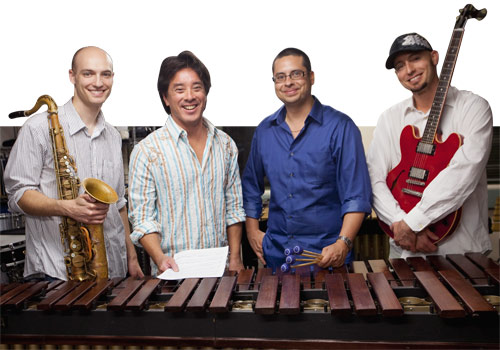 Chamber music at Wolfson
What sound do the saxophone, marimba, electric guitar and piano make when they come together to play Dutch composer Louis Andriessen's mind-bending piece Hout (Wood)?
"Like Bach gone mad," said Miami Dade College associate professor Dr. Alan Ngim.
"With the exception of the piano, this is probably the most difficult music ever written for the saxophone, marimba and electric guitar," he added.
Last month, Dr. Ngim and five other respected musicians and educators performed the complicated piece, among other works, at a concert presented by the Wolfson Campus Arts and Philosophy department, which was held at the First United Methodist Church of Miami.
The free concert, titled Obsession, drew in crowds of music lovers who also enjoyed Pastorale, composed by Louis Andriessen's father, Hendrik Andriessen. Steve Reich's Clapping Music; Olivier Messiaen's Le Merle Noir and Louange à l'Immortalité de Jésus from his Quatuor from la Fin du Temps; Somei Satoh's Birds in Warped Time II; and Arvo Pärt's hypnotic Spiegel im Spiegel.
"Often hypnotic and mesmerizing, the music is accessible, fresh and modern," Dr. Ngim said. "Much of it is in a minimalist style, which features repeated patterns that slowly change."
The ensemble included flutist Ebonee Thomas, violinist Megan McClendan, saxophonist Matt Vashlishan, guitarist Aaron Lebos, percussionist Sergio Carreno, and pianist Alan Ngim.
These versatile musicians can also be heard performing with the New World Symphony, Miami Children's Chorus and The Delray Quartet, from Churchill's Pub to the Arsht Center, nationally and internationally. Members of the ensemble also teach at MDC, New World School of the Arts and the University of Miami.
— SA
More Cultural Spotlight Articles