---
Cultural Spotlight
Jazz at Wolfson Concert presents star drummer Ed Soph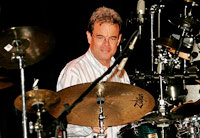 Ed Soph jamming at the drums
Big Band veteran drummer, author and educator Edward "Ed" Soph, who has toured the world performing and teaching his unique brand of musicianship came to Miami Dade College. His performance, alongside the MDC Jazz Faculty Quintet, was part of Jazz at Wolfson's 2009-2010 Season, produced by the Wolfson Campus Art and Philosophy Department.
Soph is an Artist Clinician for the Yamaha Corporation of America, the Avedis Zildjian Company, Evans Drumheads, and Innovative Percussion, makers of Ed's signature stick. His video, The Drumset: A Musical Approach, is distributed by Warner Bros. 
He holds the rank of Professor in the Jazz Studies and Performance Divisions of the College of Music at the University of North Texas. He teaches applied drumset students and the Rhythm Section Master Class. He has also presented master classes throughout Europe, the Middle East, Asia, Australia and New Zealand. While at MDC, Soph will also meet with students in the jazz program.
"Jazz at Wolfson is the only continuously running jazz series in Miami-Dade County, offering a free, year-long jazz recital and concert series to residents, students and music lovers of all ages," said MDC jazz studies professor Dr. Michael Di Liddo, who founded the series. Di Liddo is also part of the MDC Jazz Faculty Quintet. "We are looking forward to playing with a drummer of Soph's caliber," he said, "and bringing this unique musical experience to our community."
Every year, from September through April, Jazz at Wolfson features award-winning artists representing a wide range of jazz styles, including swing, hard-bop, cool, modern, Latin, fusion and avant-garde.
As a performer and recording artist, Soph has performed with the big bands of Stan Kenton, Woody Herman, Bill Watrous and Clark Terry. He also performed and recorded with the likes of Randy Brecker, Ingrid Jensen, Clark Terry, Joe Henderson, Marchel Ivery, Pat LaBarbera, Urbie Green, Slide Hampton, Jiggs Whigham, Bill Evans, Joe LoCascio and many others. 
When he is not playing music or teaching, Soph is writing. He is the author of Essential Techniques for Drumset, Fundamental Studies for Drumset and The Big Band Primer.
For information on upcoming concerts call 305-237-3930 or 305-237-3721, or find out more at www.mdc.edu/wolfson/arts
— Staff Report
More Cultural Spotlight Articles