---
Cultural Spotlight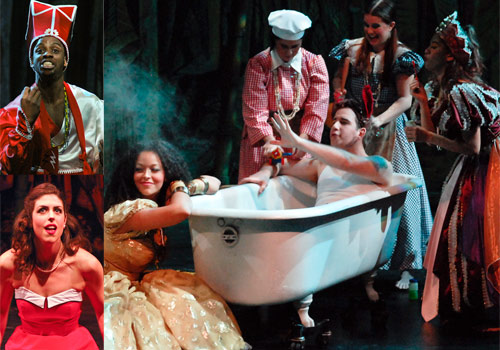 Tropical Midsummer
A Midsummer Night's Dream is about as iconic of the Shakespeare comedies as Romeo and Juliet or Julius Ceasar are of his tragedies. For that same reason, Midsummer has had about as many productions as "the skies are painted with unnumber'd sparks."
But this timeless comedy saw new light in a daringly innovative interpretation by New World School of the Arts College Theater students in a recent six-day engagement at MDC. Under the inspired direction of NWSA faculty Andrew Noble, in collaboration with costume designer Estela Vrancovich, the Bard's Dream was brought to the tropics through the mystical lens of Santería, the Afro-Cuban syncretic religion.
This pseudo-sacrilegious treatment – by purists' standards – was conceived last May during the Overseas Theatre Study trip in London.
"Stimulated by the innovative productions that we experienced, we debated NWSA's mission and the opportunities we offer our students," Noble said. "The conversation raised the issue of interdisciplinary collaboration, risk-taking and experimentation, and the composition of our student body."
To Noble, this earth-shaking re-conceptualization is in keeping with the original text, rather than straying from it.
"I was not in favor of portraying the world of Oberon and Titania as a Walt Disney/Victorian butterfly-winged idyll," Noble explained. "In returning to the text, I saw a darker, earthier, more mischievous domain."
Into this domain they delved under the expert guidance of Peter London, a faculty member in the NWSA Dance Division, who developed the intrinsic character and movement of the Orishas (Santería deities) along with their respective choreographies. The production also sought the advice of priests in order to observe respect for the religion.
— HP
More Cultural Spotlight Articles