---
Features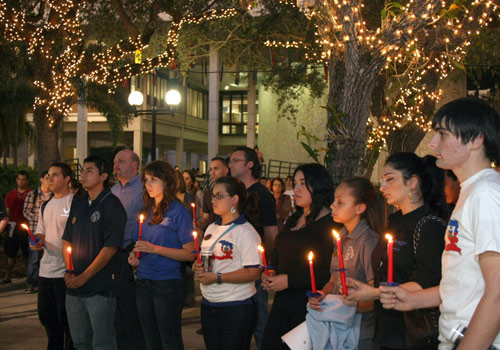 MDC relief efforts for Haiti
Click above for related video.
The 7.0 magnitude quake that devastated Haiti stirred the Miami Dade College community, which raised money, collected supplies, and held vigils in the wake of the disaster.
First to act was MDC's Emergency Preparedness team, which coordinated efforts designed to communicate compassion and fuel hope to those grieving since the devastating Jan. 12 event.
The College designated a special account for fundraising, with Student Life offices throughout each campus serving as collection sites for donations. College officials and students also worked to get the word out that donations would be accepted there.
Additionally, three truckloads of first-aid supplies were collected and delivered by students of the Medical Center Campus to a team of doctors and registered nurses traveling to Haiti. The traveling group was sponsored by Sister Emmanuel Hospital for Continuing Care, a division of Mercy Hospital.
Students and administrators from North Campus and Snead State Community College in Boaz, Alabama, worked together to help relief efforts. Through the Student Development Program Cultural Exchange and Civic Responsibility Student Engagement Program, students from both schools conducted fundraising and other activities over several days.
Everyone at MDC also got a chance to share in their response to the quake through candlelight vigils held simultaneously at the College's eight campuses. The public memorials and tributes included a moment of silence and meditation, a celebration of life ceremony, music, poetry readings and oral presentations on the culture and history of Haiti. Student deans also offered counsel to Haitian students on a case-by-case basis.
Said North Campus Student Life Director Jaime Anzalotta: "It was amazing to see several cultures, which were united by their shared pain, work together."
— CJI
More Features Articles