---
Academics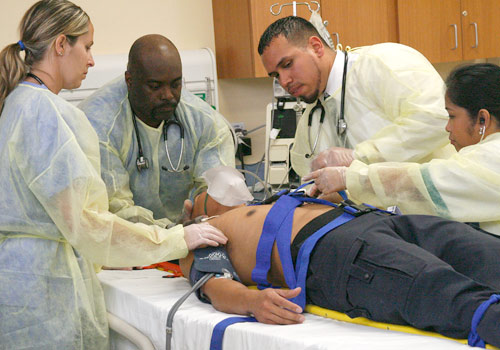 All in good health
Learning how to care for others is one of the most valuable lessons for those entering medical fields. For students at MDC's Medical Center Campus, benefits offered by this year's outreach programs were twofold—in addition to getting hands-on experience with patients in various communities, they also touched the lives of many in need.

This year marked the beginning of a new partnership between the MDC Health Science and Nursing programs and the Miami Rescue Mission (MRM), which serves the homeless community by offering meals, shelter and social services. MRM's new onsite clinic, which was inaugurated in May and is less than one mile from the medical campus, has also become the new clinical site for MDC's physician assistant, nursing and other health science students. While there has been collaboration between the programs for many years, the new clinic will provide an opportunity for students and members of the community to have access to the tools they need to learn and be treated.
Branching out far and wide
Healthcare efforts reached far beyond the clinic and Miami. Recently, 18 students traveled to Haiti along with a group of local medical students to provide medical services to more than 650 people and to distribute $37,000 worth of medicine to patients with ailments ranging from hypertension and diabetes to sexually transmitted diseases. The students also performed screenings and physical examinations.
 "It was a great experience for students but also for the people they touched. It showed them the need that other cultures and communities have," said Dr. Pete Gutiérrez, who traveled with the students in July, then returned with three other MDC faculty members one week after the earthquake.
Technology improves electronic records
This year on-campus medical efforts advanced along with technology. MDC formed the Institute for Health Informatics, an interdisciplinary group of faculty and administrators dedicated to finding the best practices for implementing Electronic Health Records in MDC's college programs and also in the community.

In response to the H1N1 outbreak, MDC partnered with the Miami-Dade County Health Department to sponsor free H1N1 vaccinations for students and employees. More than 800 students received the vaccine, with faculty and nursing students volunteering their time.

In February, the Community Health Fair celebrated its fifth anniversary. The free event provided 1,500 attendees with glaucoma, glucose and cholesterol tests, mammograms, blood pressure checks, dental and vision screenings, H1N1 vaccines and information on nutrition, heart disease and cancer prevention.

Visitors came from Miami-Dade, Broward and even Palm Beach County. For many, it provided an oppportunity to have access to medical care that they otherwise would not have been able to afford.
— NM
More Academics Articles